Ivy League Contributes Players to the 2016/17 NIRA All-Americans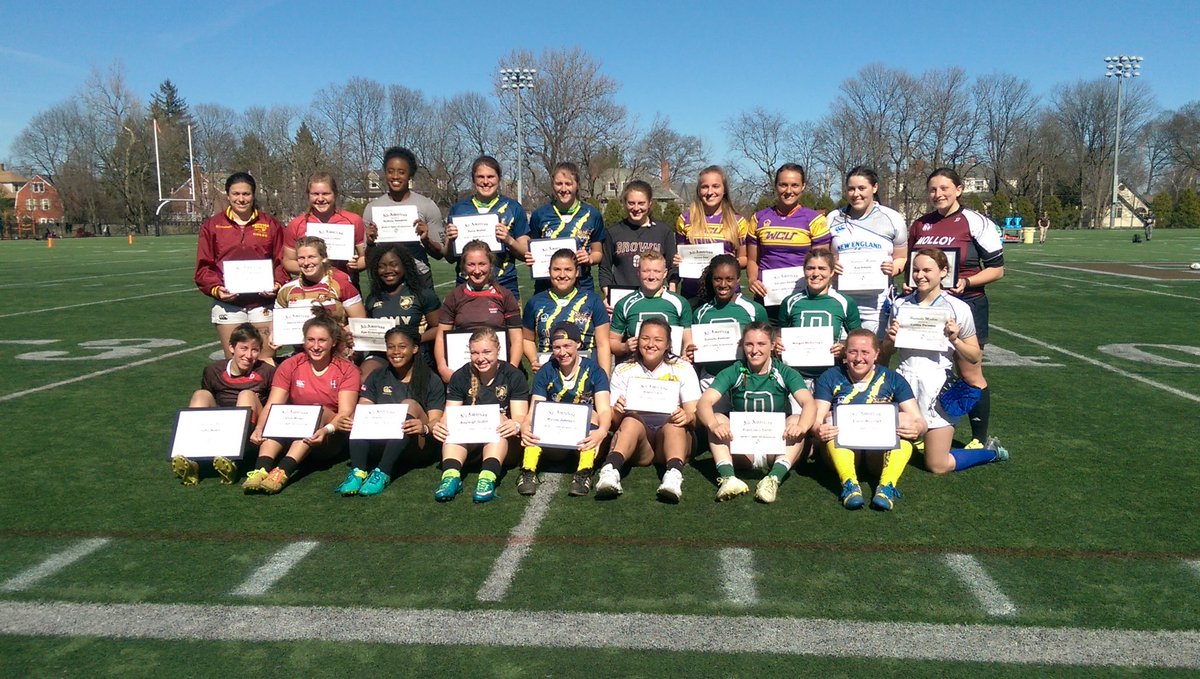 The 14 colleges competing in the 2016-2017 NCAA League have selected the second class of NIRA Rugby All-Americans. Each student-athlete was selected based on their performance over the course of the inaugural 2016 NCAA League season. 
The NCAA League kicked off its Spring 7s Series on March 25 at Harvard University. On April 9, for the third year in a row, Brown hosted the all-NCAA Sorensen Invitational where these All-Americans were acknowledged for their skill and dedication to the sport.
Selected NIRA All-Americans hail from 3 different Ivy League schools, including Brown, Dartmouth, and Harvard. 
2016-17 NIRA RUGBY ALL-AMERICANS
Sui A'AU (Portland, Ore.)
Central Washington University, freshman, inside center
Kayla CLARK (Olympia, Wash.)*
American International College, junior, No. 8
Claire COLLINS (Palo Alto, Calif.)*
Harvard, senior, No. 8
Zye CRITTINGTON (Cocoa, Fla.)*
USMA, West Point, sophomore, inside center
Sheila DECKER (Saranac Lake, N.Y.)
Norwich University, sophomore, No. 8
Gio FERGUSON-LEWIS (Rockaway Beach, N.Y.)
USMA, West Point, freshman, No. 8
Bayleigh GABLE (Grandville, Mich.)
USMA, West Point, freshman, flyhalf
Oksana GORETAYA (West Warwick, R.I.)
Brown, senior, center
Anne-Laurence HARVEY (Quebec, Canada)*
American International College, sophomore, center/wing
Sydney HAWKINS (Flint, Mich.)
USMA, West Point, junior, wing
Kim HURLEY (Brookfield, Mass.)
Norwich University, senior, prop
Leah INGOLD (Kent, Wash.)
Central Washington University, sophomore, flyhalf
Mason JOHNSON (Olympia, Wash.)*
Quinnipiac University, junior, scrumhalf
Bridget KAHELE (Aldie, Va.)*
American International College, junior, scrumhalf
Ilona MAHER (Burlington, Vt.)*
Quinnipiac University, junior, center
Cassidy MEYERS (Covington, Wash.)
Central Washington University, senior, fullback
Maggie MYLES (Emmitsburg, Md.)*
Quinnipiac University, senior, fullback
Michel NAVARRO (Fallbrook, Calif.)
Central Washington University, freshman, flanker
Vic OLCHOWOJ (Dobson, N.C.)
Norwich University, junior, flanker
Paige PFANNENSTIEL (Traverse, Mich.)
Bowdoin College, senior, flanker
Flora POOLE (Christchurch, New Zealand)*
Quinnipiac University, junior, flyhalf
Kat RAMAGE (Roxbury, N.J.)*
Dartmouth College, sophomore, scrumhalf
Danielle RAMSAY (Freeport, N.Y.)
Dartmouth College, sophomore, center
Aalea RAY (Landisville, Pa.)
West Chester University, junior, flyhalf/back
Shamira ROBLES (Bronx, N.Y.)
American International College, junior, flanker/flyhalf
Emily ROSKOPF (Pleasanton, Calif.)*
Quinnipiac University, sophomore, center
Francesca SANDS (Essex, Vt.)
Dartmouth College, junior, center
Asinate SEREVI (Seattle, Wash.)
Central Washington University, junior, outside center
Caitlin WEIGEL (Hudson, Ohio)
Harvard, sophomore, flyhalf
Hailey WYATT (Breckenridge, Colo.)*
Quinnipiac University, senior, flanker
Adriana ZEIDERS (Lancaster, Pa.)
West Chester University, senior, center/back
* 2015-16 NIRA All-American