Dartmouth wins inaugural Northeast Collegiate 7s Championship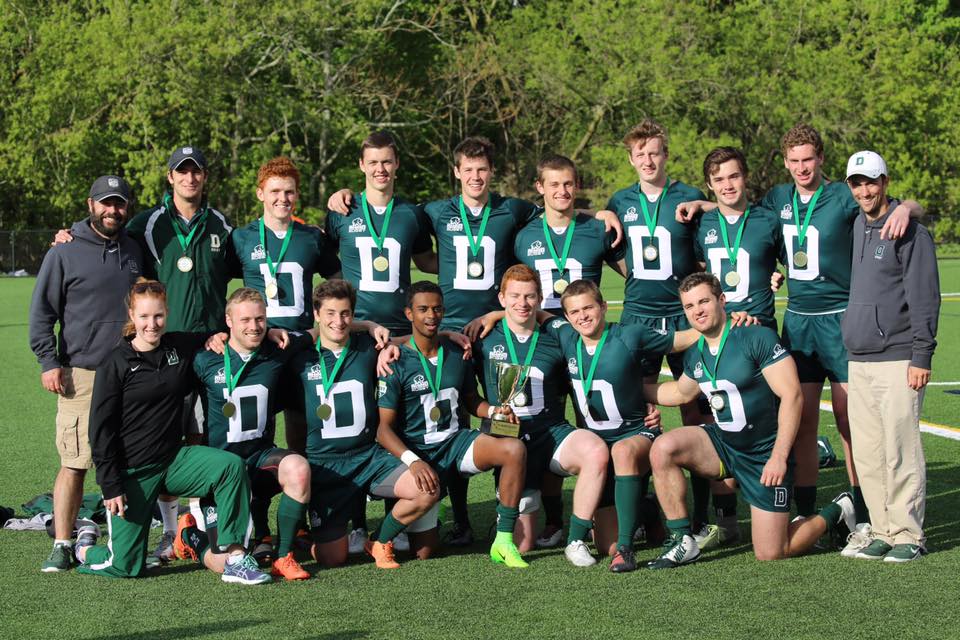 In an amazing display of talent and skill, Dartmouth's rugby team won the inaugural Northeast Collegiate 7s Tournament hosted by the Northeast Academy on Sunday, May 7th.
Dartmouth kicked off against New England College in the tournament's final round to determine who would take home the trophy. Both teams played strong throughout the first half. Dartmouth was able to break through NEC's defenses to touch down under the post before making a conversion leaving Dartmouth ahead 7-0 at halftime.
NEC did not start of strong in the second half, they dropped the ball after winning the kick-off and allowed Dartmouth to scoop it up and run untouched to score under the posts. Another sloppy play by NEC saw Dartmouth score again before they could regain their footing with three minutes left of the board. Unwilling to go down without scoring NEC returned with a touchdown and conversion to make the final game score 21-7.
The DRFC ends 3-1 on the day and wins the inaugural Northeast Collegiate 7s Tournament. 
Round 1
NEC 27 - AIC 12
Dartmouth 17 - Iona 14
Round 2
AIC 26 - Mystic U-23 22
NEC 10 - Iona 10
Round 3
Mystic U-23 25 - NEC 19
AIC 22 - Dartmouth 7
Round 4
Iona 25 - AIC 7
Dartmouth 14 - Mystic U-23 10
Finals
Dartmouth 21 - NEC 7
About the Tournament
The inaugural Northeast Collegiate 7s Tournament was open by invitation only to Men's DI college teams from the region.
"We are excited to host this tournament and provide an opportunity for these strong college programs to showcase their talent and for some to prepare for the CRC competition." Executive Director John McGeachy commented. He also expressed their commitment to develop and grow the game in the Northeast region.
Men's club teams throughout the NERFU and EMPIRE GU's attended to speak to the college teams and share material about their clubs with interested players. Several high school players and coaches also came out to connect with the college teams. "We believe that connecting high schools to college to clubs, from grassroots to elite competition, is a major part of our mandate," said Academy Founder Steve Lewis. "By strengthening connections and relationships within different levels of the game, we can ensure player retention in the Northeast, one of the hotbeds of American rugby."
Next year the tournament hopes to host even more college teams from the region and offer a Women's bracket.