Flores Earns Spot in U.S. Rugby Hall of Fame Class of 2016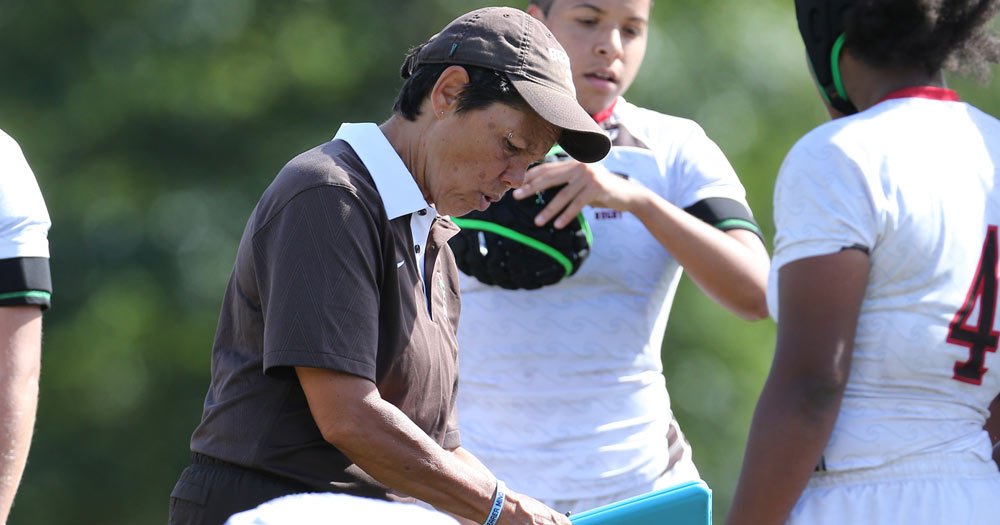 SAN DIEGO, Calif. – Brown women's rugby head coach Kathy Flores has been selected into the U.S. Rugby Hall of Fame, as announced by the United States Rugby Foundation. Brad Andrews, Jay Berwanger, George Betzler, Steve Gray, Dan Lyle, Dave Sitton and Brian Vizard will join Flores in the class of 2016.
All eight members will be inducted on Saturday, June 4, 2016 in Philadelphia at the Hall of Fame Dinner being held in conjunction with the Penn Mutual Collegiate Rugby Championship (CRC).
Flores started out at Florida State where she captained and coached the team to four National Championship titles. She then competed on the USA Women's National Rugby Team from 1985-1994, captaining the team in 1987 in its inaugural international match versus Canada as well as the 1991 USA Women's Rugby World Cup Championship Team. An eight-year coach of the USA Women's National Team, Flores has led the squad to fifth place finishes at the 2006 and 2010 World Cups. Flores has additionally coached the Berkeley All-Blues to 15 National Championship titles while playing in two of them.
Selected as the 2000 Coach of the Year by rugbyrugby.com and the Women's Sports Foundation, Flores was also named the 2003 IRB Women's Personality of the Year and the USA Rugby 2014 Coach of the Year. 
At Brown, Flores took over the women's club program in August 2013 and led the team into its inaugural varsity season in September of 2014. In the first season at the varsity level, Flores led the Brown squad to a 9-1 overall record, including a perfect 7-0 mark against Ivy League opponents in the fall. This season the Bears competed in the first-ever National Collegiate Women's Varsity Rugby Association (NCWVRA) Quarterfinals.
Complete induction biography for Kathy Flores »
Source: Brown University press release