Brown Men's 2nds Over Yale 17-5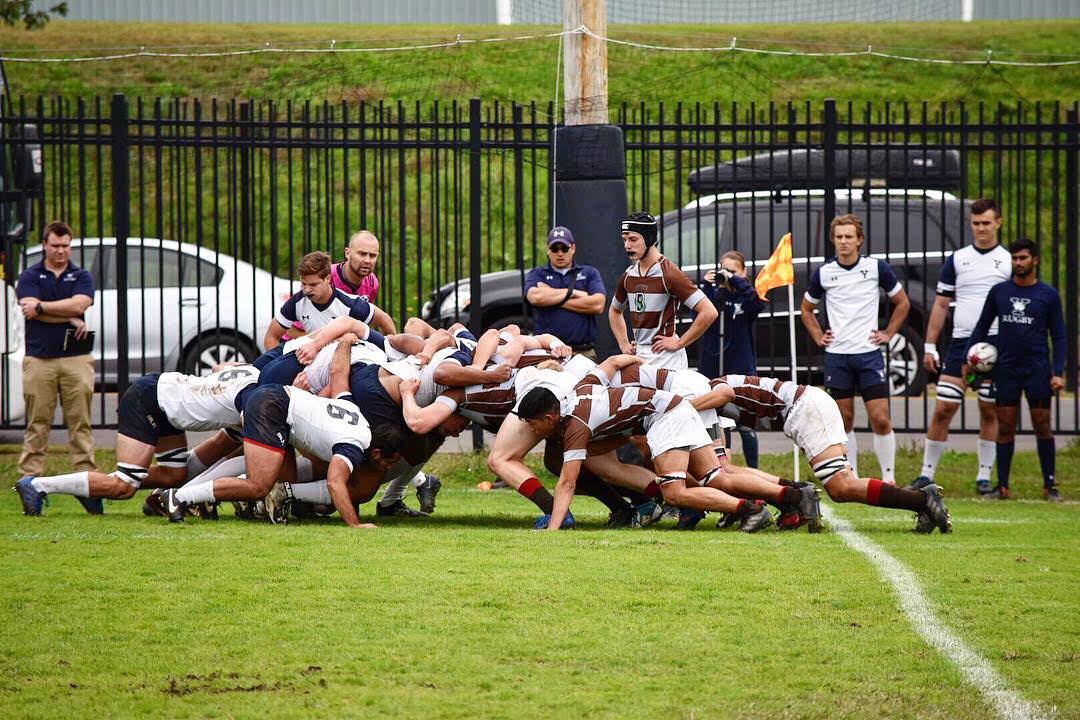 Forwards were solid in the scrum as Yale players and coaches look on
Yale was able to field a full Second XV which provided the Brown Seconds with its first full match in several weeks.
Brown took immediate control and scored three first half tries to lead 17-0 at halftime. The first try was scored by Amar Dhillon, a freshman who had arrived at Brown in September recovering from an injury. Amar, now healthy, and playing center, broke for 40 meters for his first Brown try, converted by Nathan Zaldivar. Number 8 Chase Bekkerus followed up with two tries within 4 minutes. Soti George made several strong runs and was unlucky not to score. 
In the second half Brown brought in some reserves. Although Brown was unable to score again, the Bears gave up but one try in the match. Scrum half Justin Vandervelden and fly half Zaldivar provided good ball to the backs and the forwards were solid in the Brown scrums and lineouts. Freshman flanker Adam Eberle, the man of the match, made some terrific tackles and was all over the field. "If we can keep this unit together for the rest of the season, the team should continue to play well."
Brown v. Yale University Second XV Scoring Summary
First Half
13 min Brown Try (Amar Dhillon) 5
    Conversion (Nathan Zaldivar) 2
20 min Brown Try (Chase Bekkerus) 5                    
23 min Brown Try (Chase Bekkerus) 5                
First Half Brown 17, Yale 0
Second Half
42 min Yale Try 5    
Second Half Brown 0, Yale 5
Second Half Brown 17, Yale 5
Referee:  Myles McIvor
Brown Squad
1.    Edwin Lozano'22
2.    Elija Soto'21
3.    Allen Green'20
4.    AJ Berman'19, replaced at 40 minutes by Shivam Agarwl'22
5.    George Wilde'21, replaced at 40 minutes by Hersh Gupta'21
6.    Adam Eberle'22
7.    Cameron Webster'20
8.    Chase Bekkerus'22
9.    Justin Vandervelden'21
10.    Nathan Zaldivar'20
11.    Soti George'22, replaced at halftime by Deniz Osturk'22
12.    Max Judish'22
13.    Amar Dhillon'22, replaced at halftime by Soti George
14.    Logan Casey'21
15.    Ashton Stoop'GS
Related Links