Don (Woody) Gray died quietly at home, at age 89, in Johns Creek, GA on August 8 following a short illness. He was born in Norwalk, CT in 1934 to Donald H. Gray and Sally Miles Gray of Darien, CT.
He graduated from Darien High School on Renshaw Road in 1952 where he excelled in football, also played basketball, and handled the shotput and javelin events for the track team. His football prowess extended to the basketball court where, as one of Darien's legendary "twin towers" in 1952, he protected his basket as a football player would.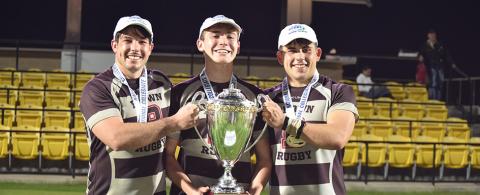 From left to right, team captain Daniel Archer, Joseph Al-Hasso and Henrique Gabriel lift the championship trophy.
The team claimed its first-ever national championship in Division I National Collegiate Rugby in a 21-5 victory over Queens University of Charlotte.
PROVIDENCE, R.I. [Brown University] — The Brown University men's rugby team capped an undefeated season with a first-ever national championship title in Division I National Collegiate Rugby.