Big Green defeats Bears 44-nil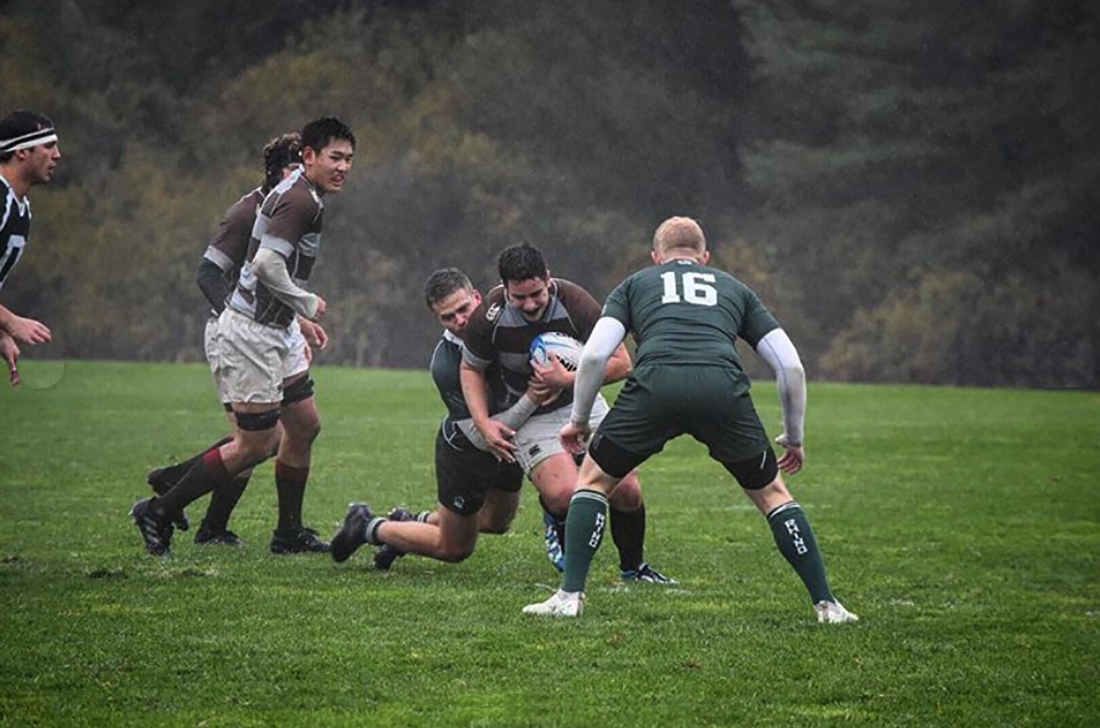 Dartmouth is still the Ivy Conference team to beat
Saturday, October 27, 2018
Dartmouth is still the Ivy Conference team to beat as the Big Green defeated the Bears 44-0, inflicting Brown's only First XV loss to date this season. Although the result is disappointing, the score does not reflect Brown' early effort and competitiveness on the day.
The day was never going to be a perfect fall setting for rugby. Temperatures in the low 30s, driving rain and wind was the backdrop for the match. In spite of the conditions, handling early on was generally good for both teams, with Dartmouth using its kicking game more effectively than Brown. As the game wore on, Brown's handling suffered more than Dartmouth's in the very cold conditions.
The match was quite even for the first twenty minutes with the only points from a Dartmouth penalty kick in the 20th minute. The seeds of the direction of the match however we sown during this first quarter of play. In spite of Brown's solid defense, approximately 15 minutes had been played in the Brown half of the field and only five minutes in the Dartmouth half. Brown had several sequences of play that could have resulted in a Brown score, but the Dartmouth defense did not faulter.
Starting center and freshman Jon Kim went off with an injury in the 15th minute, effecting the backline leadership.  Dartmouth scored again in the 27th minute of the fist half for an 8-0 lead. After the ensuing kick off, Brown number 8 Jae Kim and scrum half Peter Smith were yellow carded and sin-binned for 10 minutes. With Brown operating without its captain and scrum half, the Bears conceded two converted tries and trailed Dartmouth 22-0. 
As the second half got underway, the Bears needed to score quickly and switch momentum. However, Brown mishandled the second half kick off and gave up a converted try, falling behind 29-0. Dartmouth was in control and ran out the victory, scoring three unconverted tries to close out the match.
It was disappointing to fail to score in this match, but Brown's scrummaging was initially strong and successful and defensively the Bears were very competitive in the first half. Inconsistent rucking, lineouts, and backline attacks hurt the Brown performance. 
Referee: Pierce Mara
Brown Squad
1.    Max Spurrell'21 
2.    Matt Dowling'19
3.    Jordan Anderson'19
4.    Austin Royer'21 
5.    Streator Bates'19, replaced at the 60th minute, by George Wilde'21 
6.    Constantin Gardey'22
7.    Chase Bekkerus''22, replaced at halftime by Adam Eberle'22
8.    Jae Kim'20
9.    Peter Smith'22
10.    Sean Lumkong'21
11.    Christos Economos'21 
12.    R.J. Oris'20
13.    Jon Kim'13, replaced at 15 minutes by Amar Dhillon'22
14.    Hudson Lee'22
15.    Alex Ogilvy'20