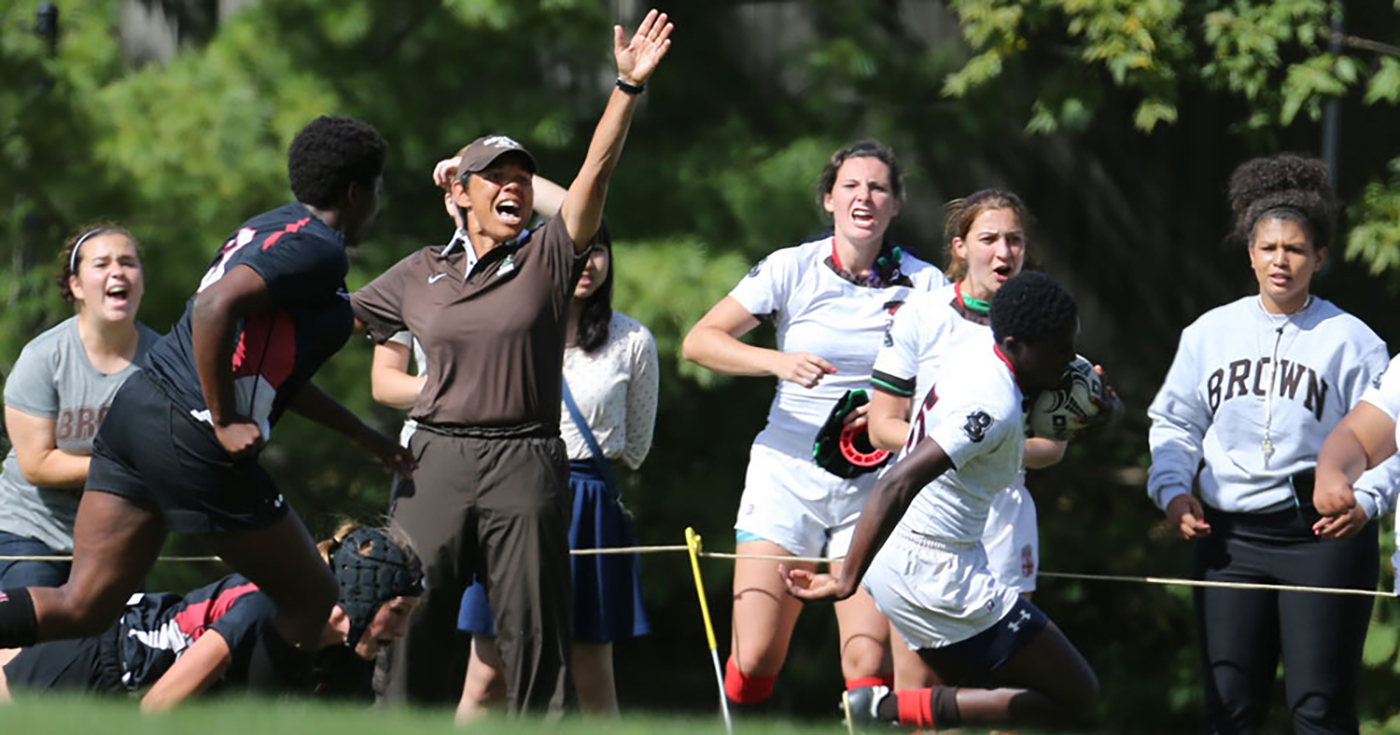 Kathy Flores celebrates another Brown Rugby try
Thursday, October 21, 2021
With great sadness, we announce the death of rugby legend Kathy Flores.
Kathleen "Kathy" Theresa Flores (1955-2021) was a rugby player and coach, winning multiple national championships over her 45-year career. She was a strong champion of the women's rugby community and her contributions to the sport of rugby were extensive. Over her career, she won multiple national college and club championships, numerous awards, and is considered a pioneer and ground breaker in women's rugby.
Kathy's rugby families at Brown University, Providence Women's Rugby, Berkeley All Blues, Cal Berkeley Women's Rugby Club, San Francisco Women's Rugby, San Francisco Fog RFC, Pacific Coast All Star Rugby Team, Women's Eagles, Florida State University and the U.S. Women's Rugby Foundation will mourn her passing. 
A virtual celebration of Kathy's life is being planned.
Rugby is the sport for everyone. Once you are part of the community, whether as a player or a spectator, you will remain a member of its family.
-- Kathy Flores
Kathy was a woman of many "firsts." She was the first woman to coach any national rugby team and the first woman of color to coach a national team. She was the first captain of the USA Women's Rugby Team in 1987 and was a member of the first 1991 World Cup Team, leading her side to victory.
Kathy's career began in 1978 as a player at Florida State University where she captained and coached the team to four national championship titles. In 1985, she was a member of the grassroots-organized, invitational women's national team, the first US women's team to play international matches. Following that she was a member of the first official USA Women's Rugby Team, which she was a part of through 1994. From 1994-2010 she embarked on arguably one of the most successful coaching stints of all time, leading the All Blues to eleven National Championships. She coached the USA Women's Rugby Team from 2003 to 2010, and was the coach of the 2006 and 2010 US Women's World Cup Team. In 2009, Kathy helped spearhead the Women's Premier League. 
Brown and the Ivy Rugby Conference
In 2014 Kathy became Head Coach at Brown University, one of the first Division I NCAA teams, where she continued coaching until her death.
"Kathy was a pioneer in women's rugby and an amazing role model, friend, and champion of the sport."
 -- Milli [Ivy Rugby Conference President, Amelia Luciano]
"Today, not only did the rugby community lose a legend, I lost a friend. It's amazing how one of the hardest people I know could also be one of the most caring and loving people I know. She was an inspiration. I'm a better person for having been able to know her."
 -- Dave [Brown Men's Rugby Head Coach, David R. Laflamme]
"We started out as fierce competitors in the coaching box and became wonderful friends. I love you and will miss you."
 -- Chris [former Princeton Women's Rugby Head Coach, Christopher Ryan]
Kathy Flores Head Coaching Chair for Women's Rugby at Brown University
Joan and Paul Sorensen, graduates of Brown University, have announced the Kathy Flores Head Coaching Chair for Women's Rugby at Brown University. The Kathy Flores Coaching Chair recognizes and honors Kathy for her contributions as a pioneering coach and educator.
U.S. Women's Rugby Foundation
Kathy is most well-known as a beloved teammate, coach, mentor, and friend, and as a fierce advocate for women's equity and access to rugby. Her vision was the spark for the founding of the U.S. Women's Rugby Foundation.
Read more about Kathy
In accordance with Kathy's wishes, the Foundation has established a memorial fund to pay tribute to her legacy and allow her contributions to the sport to continue.
Read about Kathy and make a contribution
A site has been set to share pictures, memories, and tributes. 
Read more and post
Kathy's Accolades
Inductee Eastern Stroudsburg University Hall of Fame (1997)
Coach of the Year, Women's Sports Foundation (2000) 
Personality of the Year, International Rugby Board (2003)
Coach of the Year, USA Rugby (2014)
Honorable mention for the list of the ten greatest North American rugby players
Inductee, US Rugby Hall of Fame – individual (2016)
Woman of Achievement, YWCA (2016)
Honored as a Pioneer of the Women's game in the RFU "Women's Rugby – A Work in Progress"
Inductee, US Rugby Hall of Fame – with 1991 World Cup Team (2017)
A true hero and rugby pioneer
Coaches of women's rugby are asked to take time at your next practice to tell your players about Kathy and what she meant to the game.