Women's 2018 Academic All-Ivy Team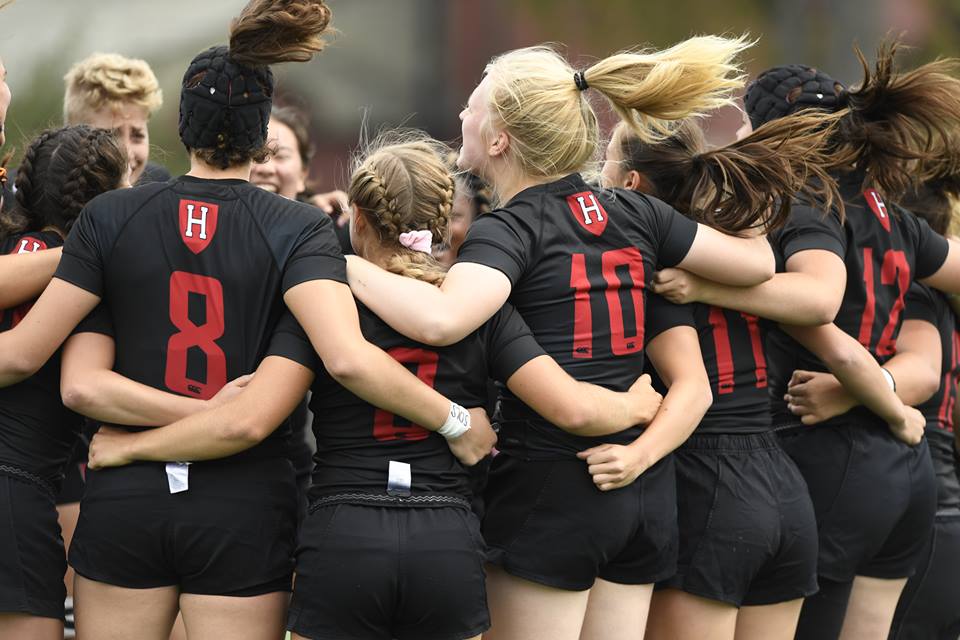 Harvard Women's Rugby
Wednesday, January 23, 2019
The Ivy Rugby Conference would like to offer congratulations to all the talented and dedicated women who were selected as Academic All-Ivy players for Fall 2018.  
In order to qualify for this honor, a player must appear in two Ivy Rugby Conference matches and maintain an at least 3.7 GPA. Selections were made by vote of the 8 coaches of the Ivy Rugby Conference.
These women are receiving honors for their skill and dedication on and off the field. 
2018 All Ivy Women's Team
Louise Leitao '19 (Brown)
Elise Hinkle '19 (Brown)
Emily Reed '19 (Columbia)
Lindsay Chevlin '20 (Columbia)
Madison Haussy '20 (Columbia)
Lucienne Marie Paradis '20 (Columbia)
​​​Nicole Cerulli '20 (Columbia)
Marine Chan Le Gloan '20 (Columbia)
Zora Navarre '21 (Columbia)
Claire Goldberg '21 (Columbia)
Ava Wood '21 (Columbia)
Eliza Jouin '21 (Columbia)
Jana Jaran '22 (Columbia)
Nikki Bregman '21 (Cornell)
Milla Anderson '19 (Dartmouth)
Ashley DuPuis '19 (Dartmouth)
Danielle Ramsay '19 (Dartmouth)
Anabel Moreno-Mendez '19 (Dartmouth)
Kat Ramage '19 (Dartmouth)
Alex Stendahl '19 (Dartmouth)
Alex Conway '20 (Dartmouth)
Khymaya Perkins '20 (Dartmouth)
Margot Genereux '21 (Dartmouth)
Kathleen Mulligan '21 (Dartmouth)
Didi Niles '21 (Dartmouth)
Marin Pennell '21 (Dartmouth)
Sophia Haley '22 (Dartmouth)
Emily Henrich '22 (Dartmouth)
Sarah Korb '22 (Dartmouth)
Abigail Schill '22 (Dartmouth)
Lily Waddell '22 (Dartmouth)
Akweley Okine '19 (Harvard)
Justina Hewitt '20 (Harvard)
Sarah Lipson '20 (Harvard)
Becca Lisk '21 (Harvard)
Cassidy Bargell '22 (Harvard)
Kiran Raja '20 (Penn)
Katie Heist '21 (Penn)
Kelly MacGarrigle '22 (Penn)
Meghan Pane '19 (GS) (Penn)
Alicia Wang '19 (Princeton)
Kaley Ubellacker '21 (Princeton)
Sarah Mele '20 (Yale)
Reanna Wauer '20 (Yale)
Amelia Linett '21 (Yale)
Angela Higuera '21 (Yale)