Women's Rugby Storms By Brown 76-7, Earns Ivy League Championship Berth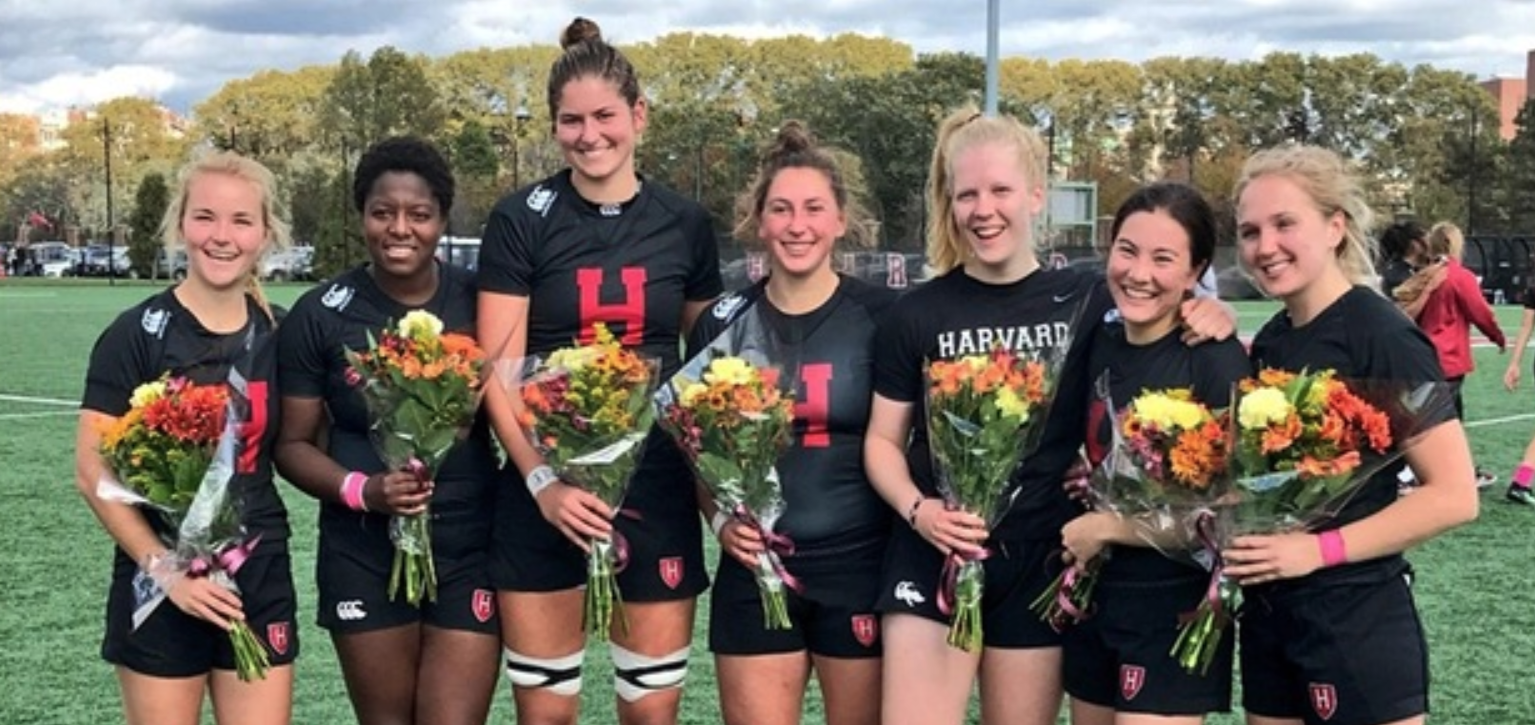 Harvard seniors honored after last home win vs Brown
Saturday, October 20, 2018
CAMBRIDGE, Mass. – The Harvard women's rugby team (5-1) jumped out to an early lead and totaled 12 tries to defeat Brown (2-3) at Mignone Field, 76-7 on senior day. 
The Crimson wasted no time to start the scoring, as Junior Delia Hellander cut through holes in the defense to get to the try zone. A couple minutes later, sophomore Erica Jarrell would score her first try of the season. With two Kronish conversions, the Crimson jumped out to an early 14-0 and did not look back. 
Senior Genevieve Quirion shook off a couple Brown defenders with multiple stiff arms to increase the Crimson lead.  
Quirion would assist on Hellander's second try of the game, followed by another try by Hellander to give her a first half hat-trick. 
First-year Sofie Fella added a try as the first half buzzer sounded, giving the Crimson a 40-0 lead at the half. The team's largest first half lead of the season.
The second half consisted of six try's, all by the senior class. Grace Chao kicked things off early on in the second half with not one but two tries of her own, showing off her to speed to get around Brown defenders. Rachael Harkavy would get in on the action with a run down the right side for a try of her own. 
Harvard's scoring would conclude with two tries from Caitlin Weigel and one from Jenny Kronish as time expired.
Harvard Highlights
On senior day at Mignone Field, the Crimson had six second half tries which were all scored by seniors. 
Hellander scored three tries, all in the first half, giving her the first hat-trick of the season for the Crimson. 
Kronish's try and Weigel's two tries bring them tied for the team lead in tries with six on the season. 
Fella's first half try gives her five on the season. She's scored in all but one game this season. 
Match Notes
With today's win, Harvard earns a berth into the Ivy League Championship game against Dartmouth next weekend.
The Crimson is undefeated at home this season, earning wins against Army, Quinnipiac, Notre Dame College and Brown. 
This is Harvard's third consecutive win in 15s play against Brown. The Crimson now lead 5-4 in the series against Brown.
Up Next For Harvard
The Crimson advance to the Ivy League Championship game on Saturday at Oct. 27 at Dartmouth. The National Intercollegiate Rugby Association (NIRA) playoffs begin Nov. 10.