A 24 Point Second Half Surge Lifted Brown Over Yale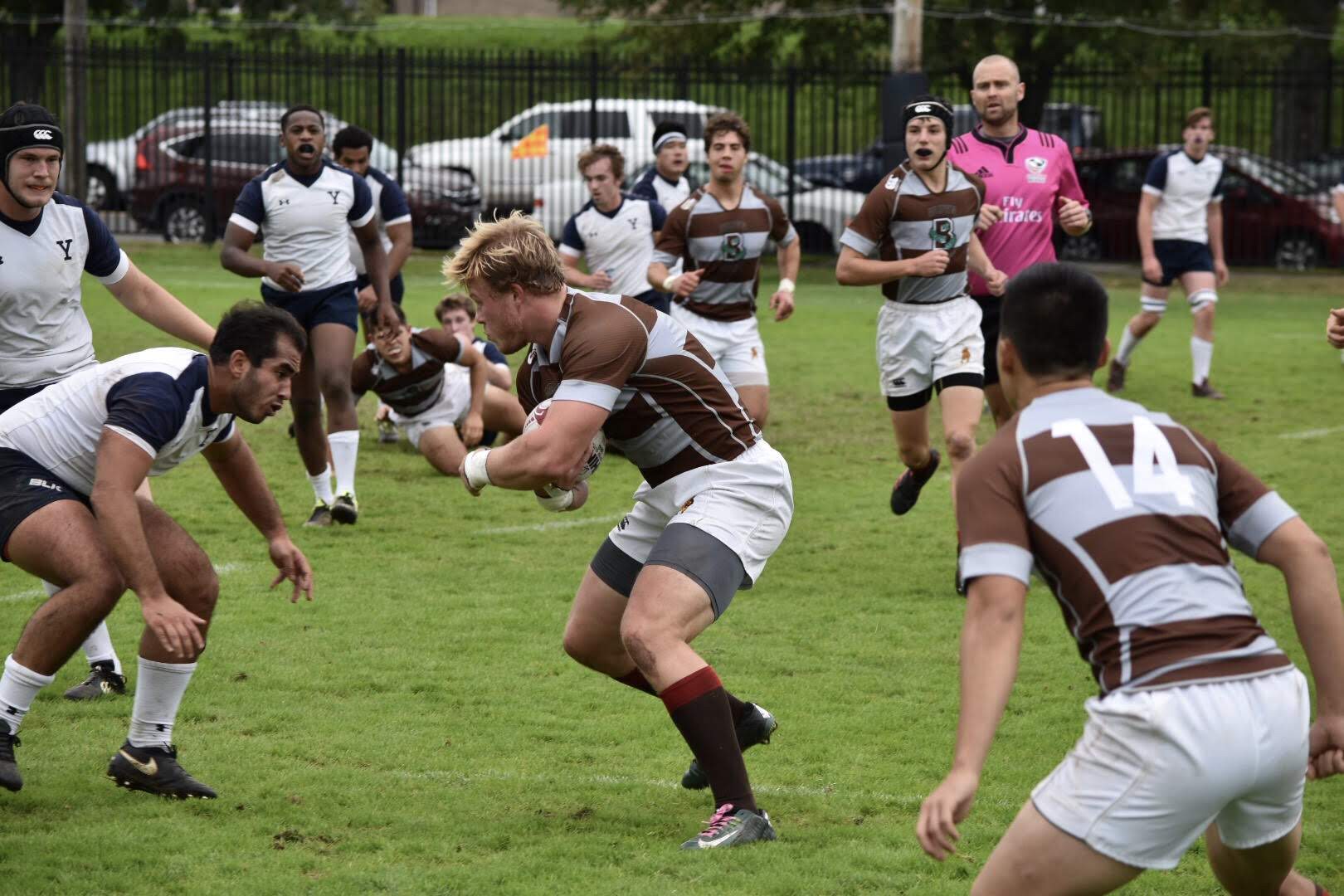 Yale's defense held Brown to only 8 first half points
Saturday, October 6, 2018
West Haven, CT. -- In what was clearly the Bear's toughest opponent to date, Brown came back from a low scoring first half with 24 second half points to defeat Yale 32-12.
After a bit of rain during the week, the Yale field was a little soft but dry enough that neither team could hold the condition of the pitch as a factor in the result. In front of a Yale Parents' Weekend crowd, the boys in blue came out hard on defense, with numerous take-aways, aggressive tackles and commitment. Add a 10 minute yellow card to Brown's Jon Kim, and Brown spent much of the first half defending deep in its end and short one player.
Yale's defense held Brown to only 8 first half points but Brown was equally stingy, conceding but one first half unconverted try.
In spite of Brown being unable to get into any rhythm on offense, the Bears defended its line, repeatedly turning Yale away with impact tackles, counter rucks and turnovers. Brown scored but twice, on a penalty kick by Alex Ogilvy and a try as the first half ended by captain Jae Kim.
Thirteen minutes into the second half flanker Constantin Gardey took the ball twenty meters up the middle, clearing the way for wing Christos Economos to make a 30 meter weaving run under the posts.  With Alex Ogilvy's conversion, Brown now held a 15-5 lead. Ten minutes later Brown was camped on the Yale goal line. Prop Jordan Anderson made a dash for the line but was tackled into touch. Brown re-secured possession of the ball and Anderson made the same run for the corner, this time scoring his first Brown try to up the Brown lead 20-5.
At the ensuing kick off Anderson was removed from the match for 10 minutes due to a yellow card, With a man advantage, Yale moved the length of the field, not only scoring a try in the corner but kicking a very difficult conversion, reducing Brown's lead 20-12. A converted try would bring the Yale team within a point of Brown. 
With only 9 minutes on the clock, the match was still in doubt, when Economos passed to wing Hudson Lee who out paced two Yale defenders and then lept over a third to score and provide the Bears with a 13 point cushion. A final score was initiated from a Brown scrum as number 10, Sean Lumkong,executed a long pass over several Yale defenders to center RJ. Oris for a twenty meter score, converted by Ogilvy.
Referee:  Myles McIvor
Scoring Summary   
First Half 
22 min   Brown Penalty (Alex Ogilvy) 3
29 min   Yale Try 5
40 min   Brown Try (Jae Kim) 5
First Half: Brown 8, Yale 5
Second Half
53 min    Brown Try (Christos Economos) 5    
    Conversion (Alex Ogilvy) 2                    
63 min    Brown Try (Jordan Anderson) 5 
66 min    Yale Converted Try 7 
71 min    Brown Try (Hudson Lee) 5             
78 min    Brown Try (R.J. Oris) 5 
    Conversion (Alex Ogilvy) 2
Second Half: Brown 24, Yale 7 
Final Score: Brown 32, Yale 12
Brown Starting XV Squad
1.    Edwin Lozano'22
2.    Elija Soto'21
3.    Allen Green'20
4.    AJ Berman'19, replaced at 40 minutes by Shivam Agarwl'22
5.    George Wilde'21, replaced at 40 minutes by Hersh Gupta'21
6.    Adam Eberle'22
7.    Cameron Webster'20
8.    Chase Bekkerus'22
9.    Justin Vandervelden'21
10.    Nathan Zaldivar'20
11.    Soti George'22, replaced at halftime by Deniz Osturk'22
12.    Max Judish'22
13.    Amar Dhillon'22, replaced at halftime by Soti George
14.    Logan Casey'21
15.    Ashton Stoop'GS
Related Links