Harvard Ivy League Champions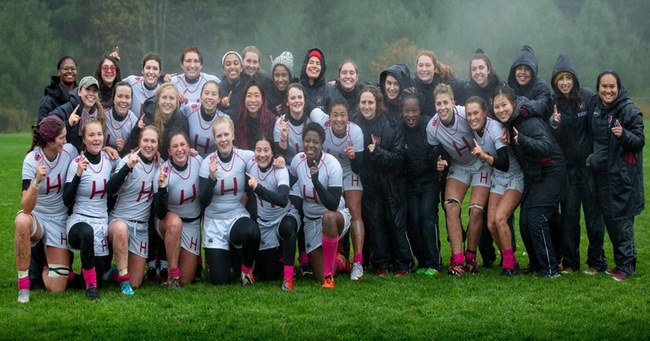 Harvard Women Earn Ivy League Title vs Dartmouth, 12-3
Saturday, October 27, 2018
HANOVER, N.H. – The Harvard women's rugby team (6-1) defeated unbeaten Dartmouth (6-1), 12-3. With the win, the Crimson earned the second Ivy tournament championship in program history.
Early in the first half, Dartmouth got off to the early lead when they kicked for points to make it 3-0. The Crimson would answer right back with a try from senior Caitlin Weigel. The first half would end 5-3 in Harvard's favor, the Crimson's lowest scoring half of the season.
Just 10 minutes into the second half, Harvard added to the lead, when senior Akweley Okine dove under the posts for the try. With the conversion by senior Jenny Kronish, Harvard would extend the lead to 12-3.
Harvard Highlights
Weigel's first half try gave her the team lead with seven tries on the season.
Okine's try is her first of the season.
Harvard's defense allowed only three points, the least allowed by the team this season.
Match Notes
This is the first victory for Harvard against Dartmouth since October 11, 2014.
Today's victory earns Harvard the second Ivy tournament victory since November 3, 2013 against Dartmouth (29-0). 
With the win, Harvard will enter the NIRA Playoffs as the one seed.
Up Next
Harvard will host the first round of the NIRA Quarterfinals as the one seed on Saturday November 10 and will be broadcast on ESPN+.
Related Links