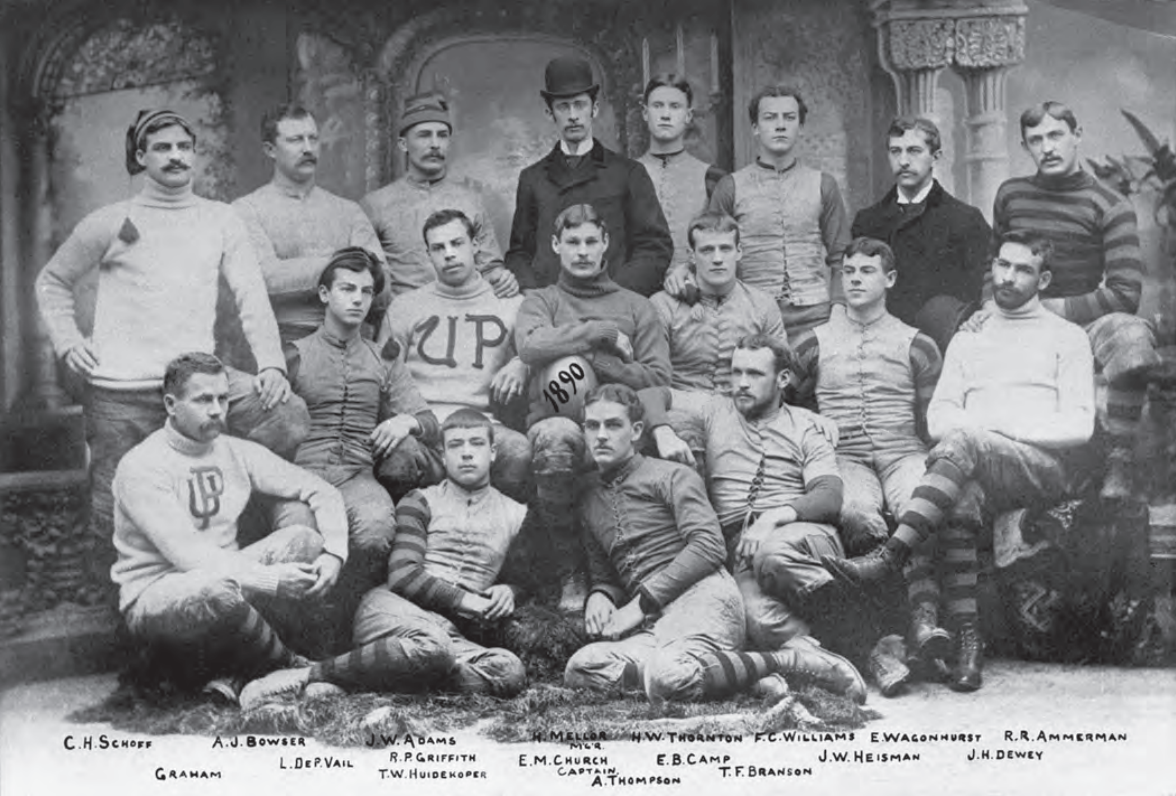 John Heisman (second row, second from right).
John Heisman and the 1890 Penn Quakers pose for a classic photo. An eye injury before the season's last game may have led him to coaching over a law career.
It was Walter Camp in the 1870s and 1880s who took rugby on a different path towards American football. Heisman played, what was for all intensive purposes, rugby in his youth. But as an adult took what Camp started to the next level with football innovations including the center snap, the audible "Hike" or "Hut" signal, and a shift that was a precursor to the T and I formations. Like Camp, he delighted in bending the rules to fluster and deceive opponents and ultimately change the game.
Two years later and 10 pounds heavier, Heisman transferred to Penn to study law, which Brown did not offer. But Penn's intercollegiate football team undoubtedly figured in the decision, too. Under a new coach, Ellwood "Woody" Wagenhurst, fin-de-siècle Quaker football was emerging from a period of underachievement. The stage could not have been more invitingly set for a player who brought as much passion and ingenuity to the game as Heisman did on arriving in 1889. The Quakers went 7-6 in 1889, 11-3 in 1890, and 11-2 in 1891.
Bypassing burlier candidates, Wagenhurst often started Heisman at left end. The final game of the 1890 season, against Rutgers, almost ended Heisman's academic career. The game was played in Madison Square Garden, then an indoor arena at 26th Street and Madison Avenue in Manhattan, which had opened the previous summer. Warming up, Heisman ran under the Garden's electric lighting system during a pre-game check. The lights came on, emitting fumes that got in his eyes and left him with blurred vision. He played the ensuing game anyway, but afterwards a doctor ordered him to give his eyes a long rest. That meant no reading, not even of textbooks.
Heisman compensated by prevailing on classmates to read the assigned material aloud and then discuss it with him. Impressed by his determination, the Penn Law faculty allowed him to take his final exams orally. On June 6, 1892, still suffering from blurred vision, Heisman was among the 37 recipients of an LL.B degree at the commencement ceremony held in the Academy of Music. The slow recovery of Heisman's eyes turned out to be a boon for football. Rather than go to work as a lawyer, with all the reading that would entail, Heisman accepted an off er to coach at Oberlin College, which had just started a football program. And by enrolling as a grad student in Oberlin's art department, he was able to be a player-coach.
Excerpt from Heisman's Game,The Pennsylvania Gazette, the University of Pennsylvania's alumni magazine
https://thepenngazette.com/heismans-game/