Cornell Wins 22-17 over Columbia and Becomes 2019 Ivy Rugby Champs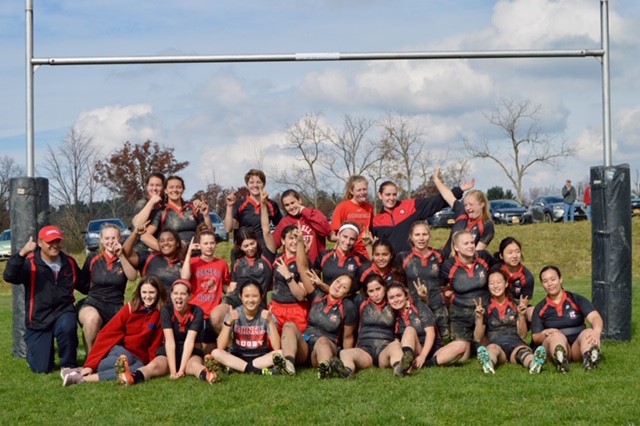 Cornell Women celebrate Ivy Rugby Conference Championship
Tuesday, October 29, 2019
From the kickoff both teams left everything on the field.
This game could have gone either way. Each team brought out their best strategy to exploit opportunity, minimizing their mistakes and using opposing team's mistakes for their own gain. Both teams shared their strength, weaknesses and frustration to complete this game. At the end of the day each team is commended for their strong finish to the season.
Looking forward to more competition like this in the future.
First half:
Cornell team president Jasmin Strong took an early lead to put up Cornell's first 5 points. Columbia team captain Jana Jaran responded with a quick try and converted her own field goal.
Team captain Deena made a well earned 2nd try for Cornell and converted her own field goal. First half 12-7 Cornell.
Second half:
Cornell junior Ashlyn Amsden scored Cornell's 3rd try in an early start. 
Columbia's Maddison Haussy made an impact from an offload supporting role to score Columbia's 2nd try.
Cornell junior Halee Calabrese scored Cornell's 4th and final try.
Julian Hutsko of Columbia scored their 3rd and final try to finish it off. Unfortunately, time ran out for Columbia. 
Cornell freshman Vallan Roan played her first game of the season. 
Final 22-17