Dartmouth Downs Harvard, 41-22, to Win Ivy Championship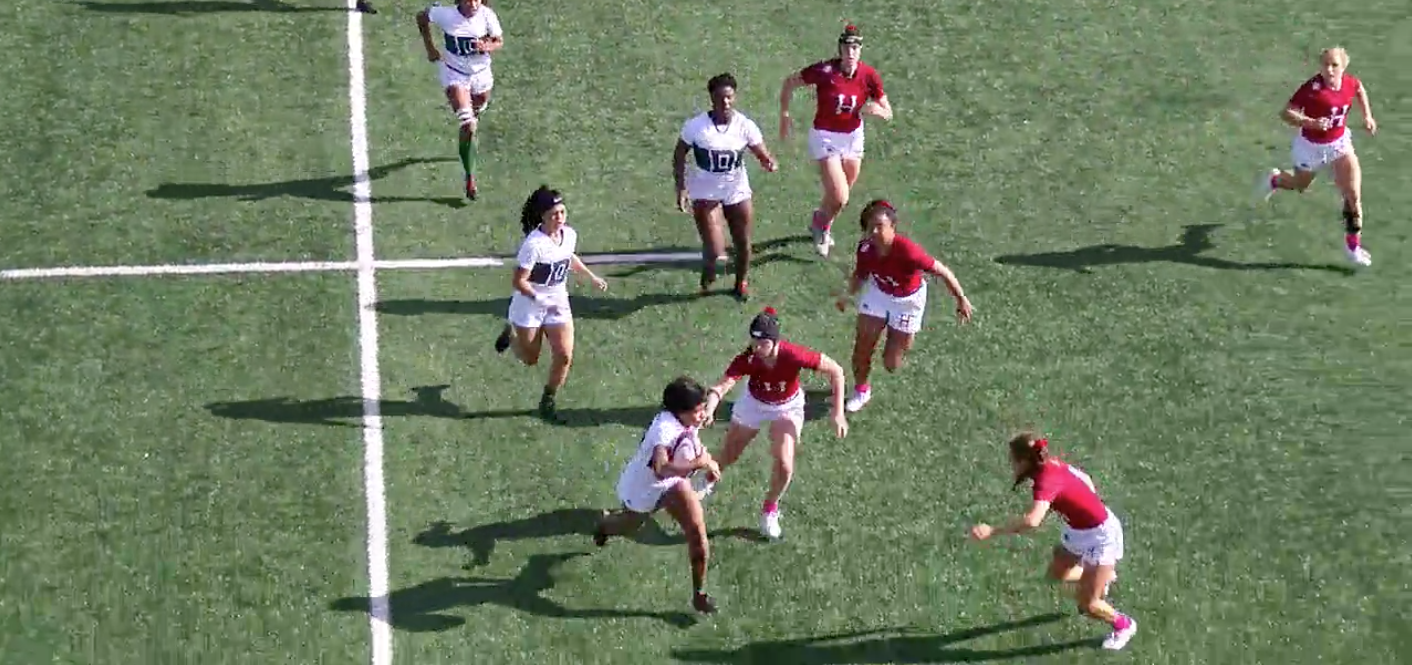 Dartmouth on the move vs Harvard women
Saturday, October 26, 2019
Dartmouth women's rugby won its fourth Ivy Championship title on Saturday with its 41-22 victory over Harvard.
 
Freshman Kristin Bitter led with 16 points from one try, four conversions and a penalty kick, while junior Idia Ihensekhien was right behind with 15 points from a career-high three tries.
 Dartmouth won the Ivy Rugby Championship from 2015-17, while Harvard was victorious last season in Hanover.
"I couldn't be prouder of the heart, grit and all-around team effort today," head coach Katie Dowty said. "The team's game sense and resilience keeps growing with every game. A lot of our younger players have also stepped up with some huge performances, which is very promising as we look ahead to the NIRA postseason in two weeks."
 
A penalty kick by Bitter three minutes in gave the Big Green a 3-0 edge, a lead the visitors would hold on to for over 20 minutes. Both teams looked strong, but neither controlled the ball long enough to get any more points on the board. At the 26-minute mark, Harvard scored and converted to move ahead, but Dartmouth responded three minutes later with an Ihensekhien try, and a conversion by Bitter allowed the Green to move back ahead, 10-7. With the clock already reading zeroes, the Crimson made one last run and were held up at the tryline by junior Marin Pennell, officially ending the first half (10-7).
 
The second was fast-paced and eventful, with two lead changes, one tie and a combined eight tries. Harvard scored two minutes in and enjoyed a two-point lead until another try by Ihensekhien and good kick by Bitter gave Dartmouth a 17-12 advantage. The Crimson tied the score five minutes later, but a try by freshman Abby Schill, a third by Ihensekhien and one Bitter conversion gave Dartmouth some breathing room with 20 minutes still remaining (29-17).
 
With eight minutes left, senior Becca Jane Rosko scored the Green's third straight try to extend their lead to 34-17. The Crimson got one more on the board, scoring their first try in over 20 minutes before Bitter scored and converted in the final seconds of the game (41-22).
 
The NIRA semifinal will take place on Saturday, Nov. 9.
Article By: Charlotte Brackett
Related Links