Harvard Women Dominate Dartmouth in Home Opener, 50-32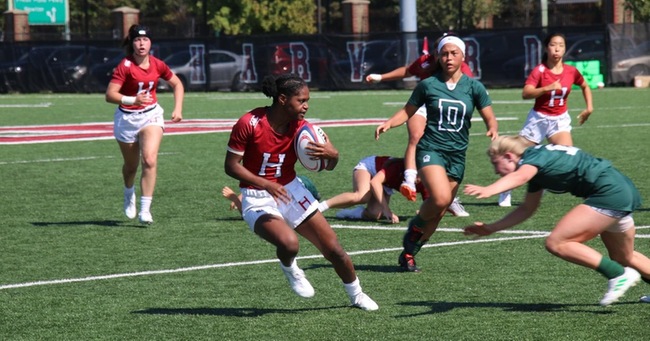 Open field move by Harvard v Dartmouth
Saturday, September 21, 2019
CAMBRIDGE, Mass.- The Crimson came out firing on all cylinders to beat Dartmouth 50-32 in its season opener. Harvard now moves to 2-1 on the season.
Senior Emily Prentice and first-year Achele Agada lead the way each with two tries on the day for the Crimson. Milan Roberts added three conversions to the scored book for Harvard totaling six points.
Dartmouth opened the game with a try but the Crimson quickly responded when junior Gabrielle Fernandopulle scored her first career try. Harvard went on to score 26 unanswered points spanning from the 14th minute to the 44th minute at the end of the first half. These tries came from the likes of Prentice, Agada and senior Dominique Cantave.
The Crimson continued its success in the second half when Prentice scored her second try of the game to make it 31-5. Dartmouth answered later with a try of their own but Harvard fought back with a 19 straight points and tries from Agada, junior Erica Jarrell and sophomore Cassidy Bargell. This run from 50th minute to the 67th minute in the second half helped to extend the Crimson's lead to 50-12.
Dartmouth's late game tries were not enough as the Crimson dominated its Ivy League rival by a final of 50-32.
Harvard Highlights
First-year Achele Agada and junior Gabrielle Fernandopulle scored their first career tries for the Crimson.
Agada and senior Emily Prentice each had a game high two tries for the Crimson.
A total of nine different players contributed points to the Crimson offense.  
This is Harvard's second win in the last three meetings for 15s against the Big Green.
What's Next?
Harvard will have a week off before returning to play Quinnipiac at home on Saturday, October 5. The game will be Broadcast on ESPN+.
source: Harvard University Athletics