Brown Rugby departs for Spring Break Today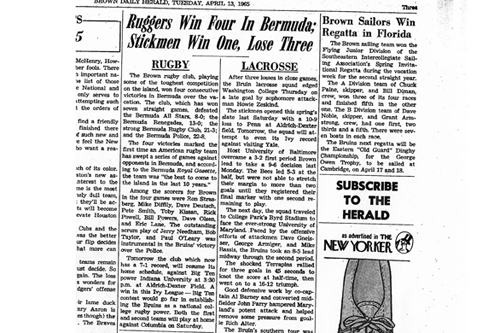 Brown departs for its Spring Break trip to Bermuda where Brown Rugby, for its 50th Anniversary, will visit the destination of first tour in 1965. Brown has taken three additional tours to Bermuda in 1992, 2002 and 2007.
Brown departs for its Spring Break Tour to Bermuda on Friday, March 20 and will return on Saturday, April 3. Bermuda matches will be played on Saturday, March 27 against the Bermuda Police, on Monday, March 29 against the Bermuda Under 23's and on Wednesday, March 31 against the Bermuda National Team. Come to Bermuda and cheer Brown on. Attached is the Brown Daily Herald write-up of the first tour which certainly was our most successful.
Contact: Jay Fluck, Director of Rugby, Brown University
Email: Jay [dot] Fluck

cbre-ne [dot] com