Brown's Miles Craigwell will play for the USA in Vegas this weekend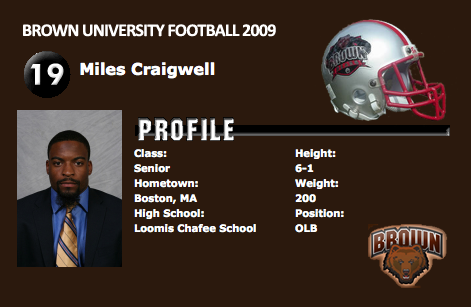 Miles Craigwell recieved an honorable mention All-Ivy selection in his senior season as an outside linebacker on the Brown University football team. As a member of Brown's Class of 2009, Miles and his Brown teammates won the Ivy League Championship. Unfortunately for Brown, Miles did not play rugby in college.
Miles Craigwell enjoyed a remarkable senior season for the Bears with 60 total tackles, second best on the Brown team. As an outside linebacker, Craigwell also registered 5.5 tackles for a loss of 19 yards. In a major Ivy contest in his senior season, Miles had a big game against Cornell with seven solo tackles, a forced fumble and two tackles for a loss. In his junior year, Craigwell finished 14th in the Ivy League in total tackles with average of 6.3 per game and ranked 2nd on the Brown's team in total tackles with 63 including 44 solo tackles.
Miles Craigwell graduated from Brown University with a B.A. in Business Economics in 2009.  While pursuing his life-long goal of joining the NFL, Miles was one of 15 athletes participating in G Movement, a national partnership between the leading sports nutrition brand Gatorade and the global humanitarian group Action Against Hunger that harnesses the power of athletics to tackle global hunger.
Miles recently switched paths from playing in the NFL to being a member of the USA Rugby Sevens team. He is currently on international iRB Sevens World Series circuit with the next stop in Vegas for the USA 7s.