Columbia Rugby President's Note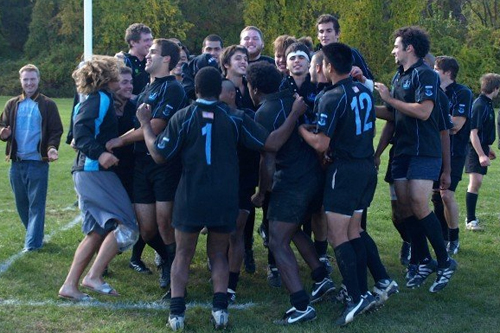 It has been one year since I have assumed the position of president of CURFC and what a year it has been. Last year's team, a team full of potential, size, athletic ability, and desire, accomplished many things (including the first Met NY win in over 2 years, a winning regular season record, and two Ivy wins over Cornell) but in the end, failed to reach all of the goals that we had set out for ourselves.
 After graduating thirteen seniors from last year's squad, many thought that CURFC enjoyed a brief glimpse of success. Nevertheless, as many of you who have followed the team this year, the success of last year pales in comparison. Throughout this entire season I have heard over and over the term "re-building squad." However, at no point during this season did we feel we were a re-building squad.
With almost a full squad of returning players from the A and B sides of last year's team and a handful of young rookies, this year's team manhandled the competition with experience, speed, and precision. The smash-mouth rugby of last season disappeared, partly due to the new size of the team, but mostly because of the new open-field and fast-paced style of play introduced by our new head coach, Sean Horan.
With a new scheme and a fusion of experience and fitness, CURFC, for the most part, blew through the Met NY schedule with few bumps in the road, going undefeated during regular season play for the first time since Fall 2000 and winning the Division 1 Met NY Championship. I'd like to extend my greatest appreciation to this year's squad for leaving everything on the field. For playing the eighty minutes of every game like they were the last and never taking any lead we had for granted.
I'd also like to thank our co-captains, Kern Collymore (CC '08) and Tony Vongdara (SEAS '08), for their leadership on and off the field and for their continuing efforts to bring the team together and creating a sentiment among the squad like nothing could have stopped us.
Also, my job would have been infinitely harder were it not for my fellow officers, so I thank you guys as well. As for our dedicated and knowledgeable coaching staff, Sean Horan, Ray Cornbill, BJ Weber, Keith Reckling, Aldo Belluzzi, and the many men of Old Blue that took time after their practices to teach us young kids a thing or two, we owe you more than you could know. I only wish that our successes have made you proud and that we may share more successes in the not so distant future.
Thanks also to all that have helped us, now and before – coaches, players, alumni, and the men of Old Blue.
If you have any questions or concerns, please feel free to contact me, our newly elected president, Phil Kemp (SEAS '09), head coach Sean Horan, or alumnus Lew Fischbein '72. We hope to see as many of you as possible at the alumni game on May 3rd.
Sincerely, Luis D. Lucas
CC '08 President Emeritus, CURFC