Dartmouth Closes Season with Tough D1AA Championship Match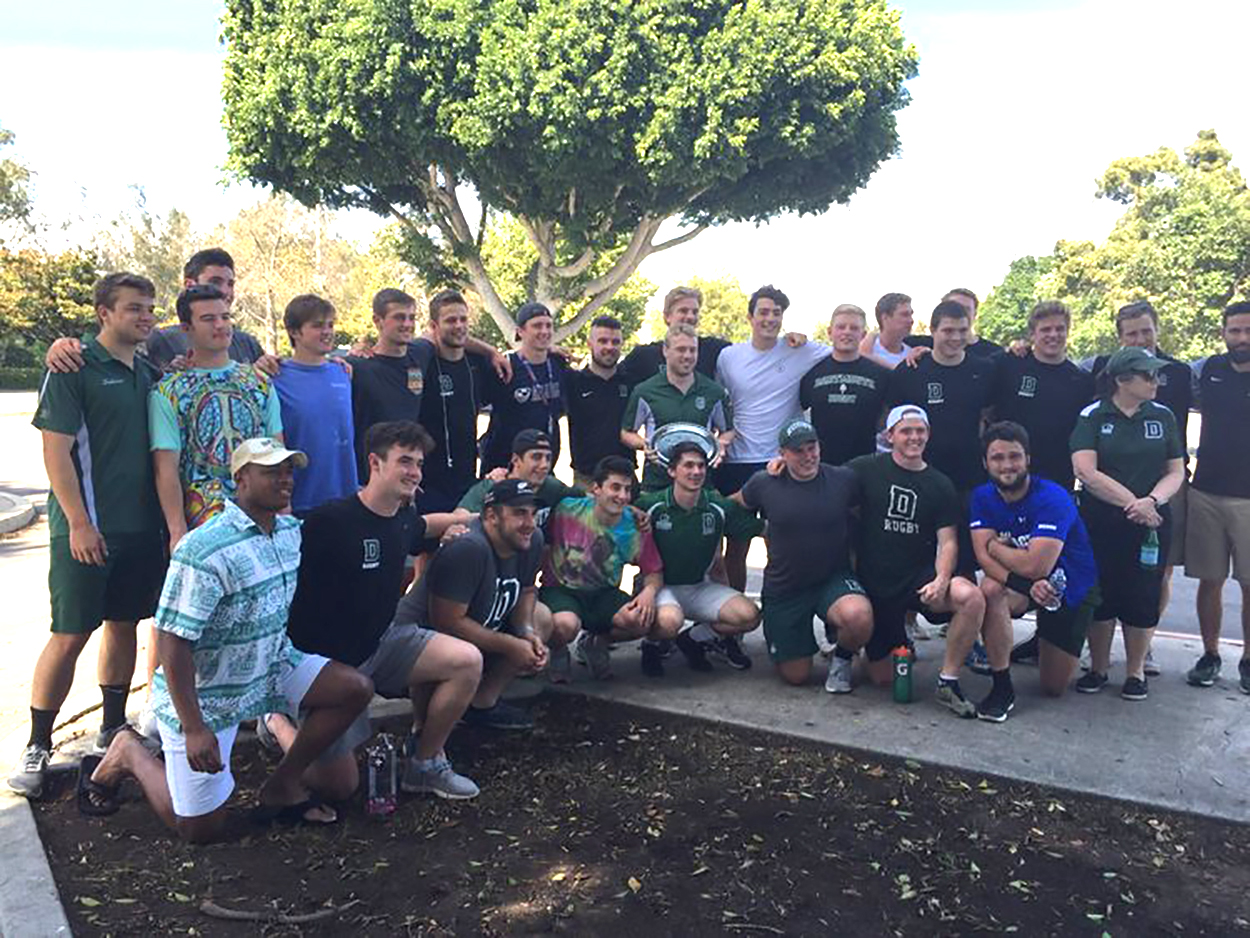 The Dartmouth came just short of the D1AA national championship, falling 38 - 30 to Mary Washington in an exciting D1AA final Saturday, May 5 at Cal State Fullerton's Titan Stadium.
Dartmouth led for most of the first half and into the second. After conceding the first try of the game, going down 7 - 0, Dartmouth surged back behind the boot of Patrick Sheehy '20 and an Ian Sullivan'18 try, to create a 16 - 7 lead. Sheehy was three of three for penalties on the day, all of which came in the first half, in addition to three conversions.
The half continued with determined physicality from both sides. Dartmouth forwards Steven Hinshaw '18 (co-captain) and Mason Koch '20 both delivering energy in the forward pack, matched by some great runs in the counterattack from full-back Jack Badenhausen '19. Despite a strong goal line stance from the Dartmouth defense in the final minutes of the half, Mary Washington was still able to pull out another try, bringing the score to 16 - 14 at halftime.
The Big Green would find themselves with a deficit to overcome, as Mary Washington took the lead and extended it to 33 - 16 in the earlier portion of the second half. However, Dartmouth was far from out of the game. Jack Badenhausen took a late hit, resulting in a Mary Washington yellow card, and Peter "The Hammer" Badenhausen '18 arrived quickly to his defense. With numbers up, a try from Koch and another from co-captain Ollie Engelhart '18, with less than ten minutes remaining, would cut the Mary Washington lead to 33 - 30. 
With under five minutes remaining the Big Green would find themselves in the midst of another goal line stance. As the two teams battled inside the twenty-two, Dartmouth held up Mary Washington in the try zone. Dartmouth came back, but a second try kept the Big Green at arms length. Mary Washington held on 38-30. Dartmouth continued to battle in the last three minutes, even past what appeared to be multiple uncalled knock-ons by the opponent but was unable to regain position before the final whistle blew on the 2017-2018 XVs season.
Mary Washington won the D1AA fall championship over St. Joseph's, and then had to wait six months to find out who the team would face for the overall title. Dartmouth won the spring final over Nevada two weeks ago.
Mary Washington 38
Tries: Masters 2, Gordon, Sacks 3
Convs: Ford 4
Dartmouth 30
Tries: Sullivan, Koch, Engelhart
Convs: Sheehy 3
Pens: Sheehy 3