Dartmouth Finish Second in the NIRA Final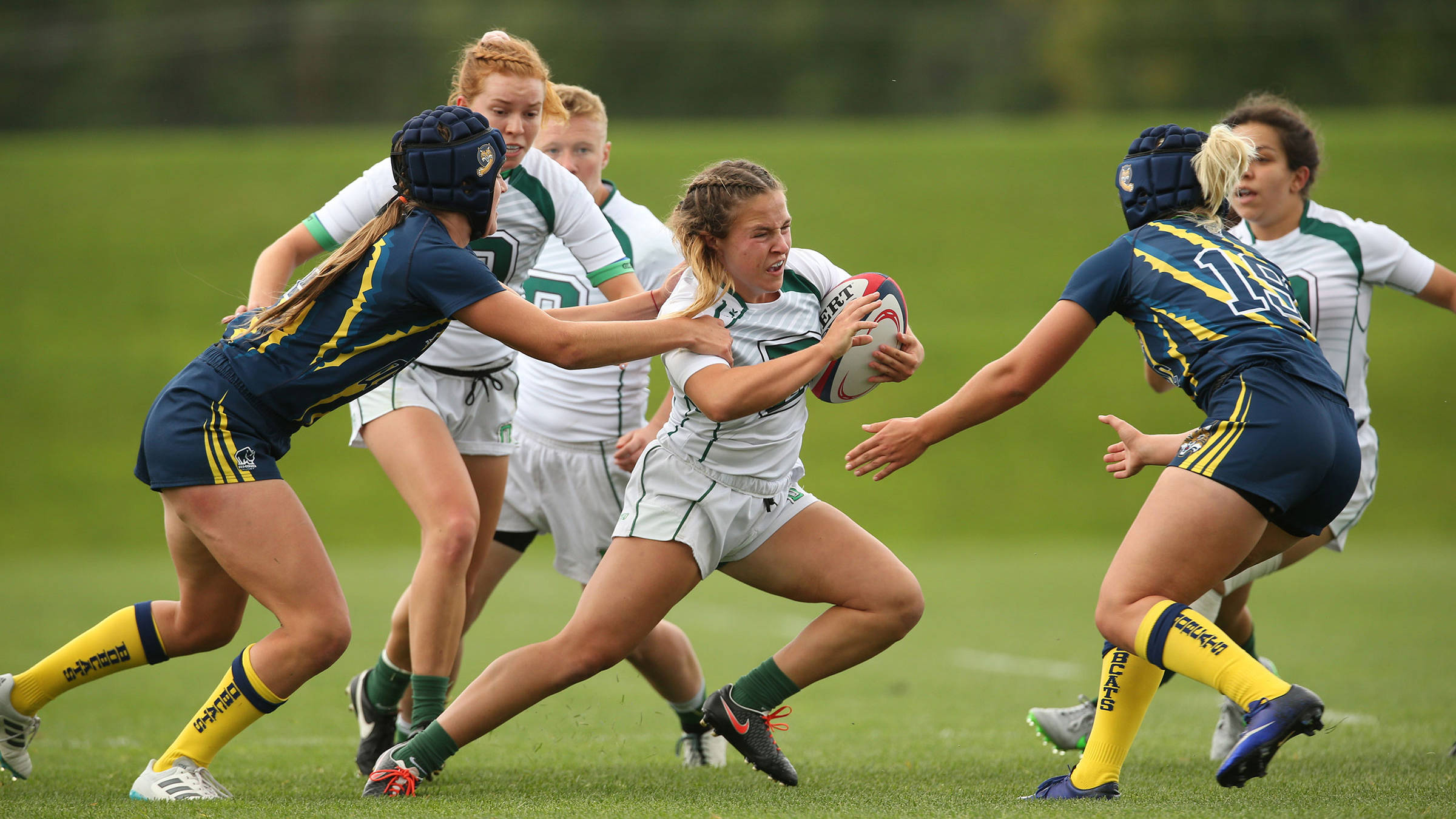 Sunday, November 19, 2017
HAMDEN, Conn. – In its first showing at the NIRA National Championship in program history, top-ranked Dartmouth women's rugby saw three different players score four tries in its 29-20 loss to No. 2 Quinnipiac on Sunday afternoon. Photo courtesy: John and Matt Risley of Freshman Lilly Durbin
After defeating Ivy League foe Harvard Friday, the Big Green of Dartmouth closed out their 2017 season with a record of 8-1, which is their best mark since making the jump to varsity status in 2015. The Bobcats, which fell to Dartmouth back in September, wrapped up their year with a 10-2 mark en route to winning their third NIRA championship.
Freshman Lilly Durbin led Dartmouth her two tries, while sophomore Eva Klein and sophomore Becca Jane Rosko each scored once. Senior Frankie Sands assisted on Roko's score and classmate Morgan McGonagle had an assist on Durbin's second try of the afternoon.
"We're incredibly proud of our performance both today and in the breakthrough season we have had this fall," head coach Katie Dowty said. "This team plays with so much love and respect for each other and for the game. We love a good battle and today was a battle worthy of a championship final. The loss stings, but it will be invaluable championship experience for us next year.
"Congratulations to Quinnipiac and a huge thanks to all our friends, family and fans who made the trip to Hamden and have supported us all year," Dowty continued. "It means so much to us."
Dartmouth got off to a great start in the first half and soon had a 10-0 lead over Quinnipiac following tries by Klein and Sands. The Bobcats added their first try of the day 10 minutes later to cut the Big Green's lead to five, but Dartmouth answered almost immediately with a Durbin try to make it a 15-5 game.
Quinnipiac wasted little time, scoring another try to get within five once again and, with less than a minute to go in the first, a Bobcat try and a good conversion gave the host a 17-15 edge, their first lead of the day. With little time left on the clock, Dartmouth entered the intermission slightly trailing.
Two Quinnipiac tries and one good conversion in a five-minute span gave the Bobcats a 29-15 advantage with 20 minutes to play in the second. With seven to play, Durbin was back for her second try of the game and a team-leading 15th of the season, breaking loose and finding the try zone to cut Quinnipiac's lead to nine (29-20).
The Big Green kept fighting, but ultimately ran out of time to execute a full comeback.
Related Links