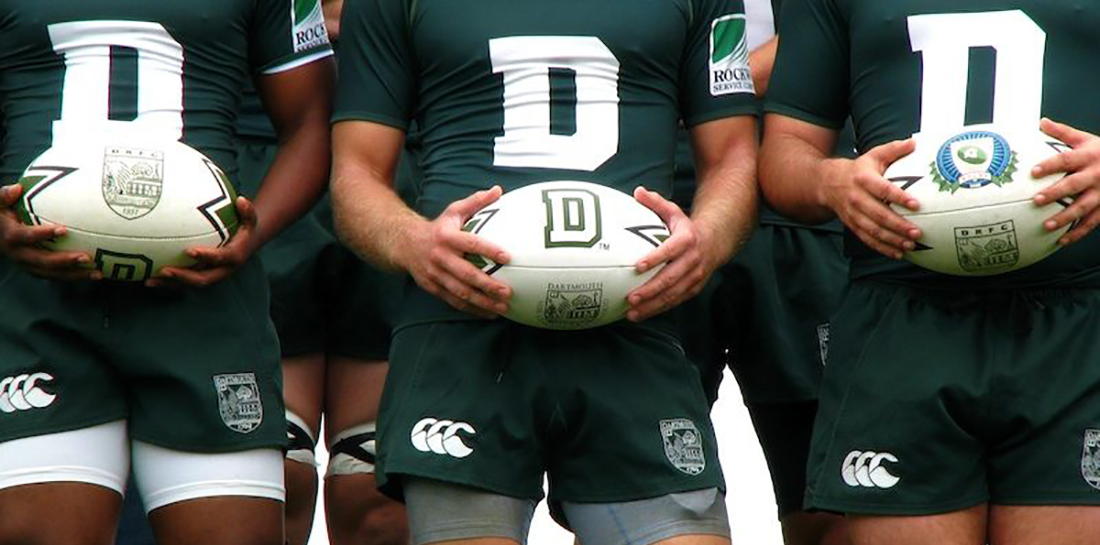 Sunday, November 12, 2017
For the eleventh consecutive year Dartmouth Men's Rugby has won the Ivy Title. The time, 2007, at the hands of Harvard in a one game title match.
Dartmouth 43 - Harvard 22
In a hard fought battle held on Brophy Field opposite Cory Ford Clubhouse, Dartmouth took an early lead settling for a 16-3 halftime score with trys by Luke Bienstock and Struan Coleman.
Harvard came out strong to start the second half, but an intercepted pass and #13 Luke Bienstock's second try of the day turned the Red Tide - Green. It was all Dartmouth after that as Bienstock scored his third try of the contest as Dartmouth pulled away.
Scoring
3-0       10 min Dartmouth penalty - Pat Sheehy
3-3       10 min Harvard penalty
8-3       18 min Dartmouth try - Luke Bienstock
11-3     23 min Dartmouth penalty - Pat Sheehy
16-3     30 min Dartmouth try - Struan Coleman
Halftime Dartmouth 16 - Harvard 3
16-8     43 min Harvard try
21-8     47 min Dartmouth try - Luke Bienstock
23-8     47 min Dartmouth conversion - Pat Sheehy
28-8     52 min Dartmouth try - Julien Johnson
33-8     55 min Dartmouth try - Luke Bienstock
38-8     60 min Dartmouth try
40-8     60 min Dartmouth conversion - Pat Sheehy
40-13   71 min Harvard try
40-15   71 min Harvard conversion
40-20   77 min Harvard try
40-22   77 min Harvard conversion
43-22   79 min Dartmouth penalty - Pat Sheehy
Dartmouth Lineup
1. Mason Koch
2. Reed Kuivila
3. Steven Hinshaw
4. Ian Sullivan 
5. Parker Hall
6. Peter Badenhausen
7. Benji Hannam
8. Struan Coleman
9. Ollie Engelhart
10. Pat Sheehy
11. Gyorgy Brevnov
12. Julien Johnson
13. Luke Bienstock
14. Chris Nkoy
15. Jack Badenhausen
16. JM Seibert
17. Liam Morris
18. Andrew Skow
19. Dylan Burke
20. Charleton McArdle
21. Ben Goodman
22. Pat O'Neill
23. Andrew Robinson