Dartmouth Women Win Over Brown at the NIRA 7s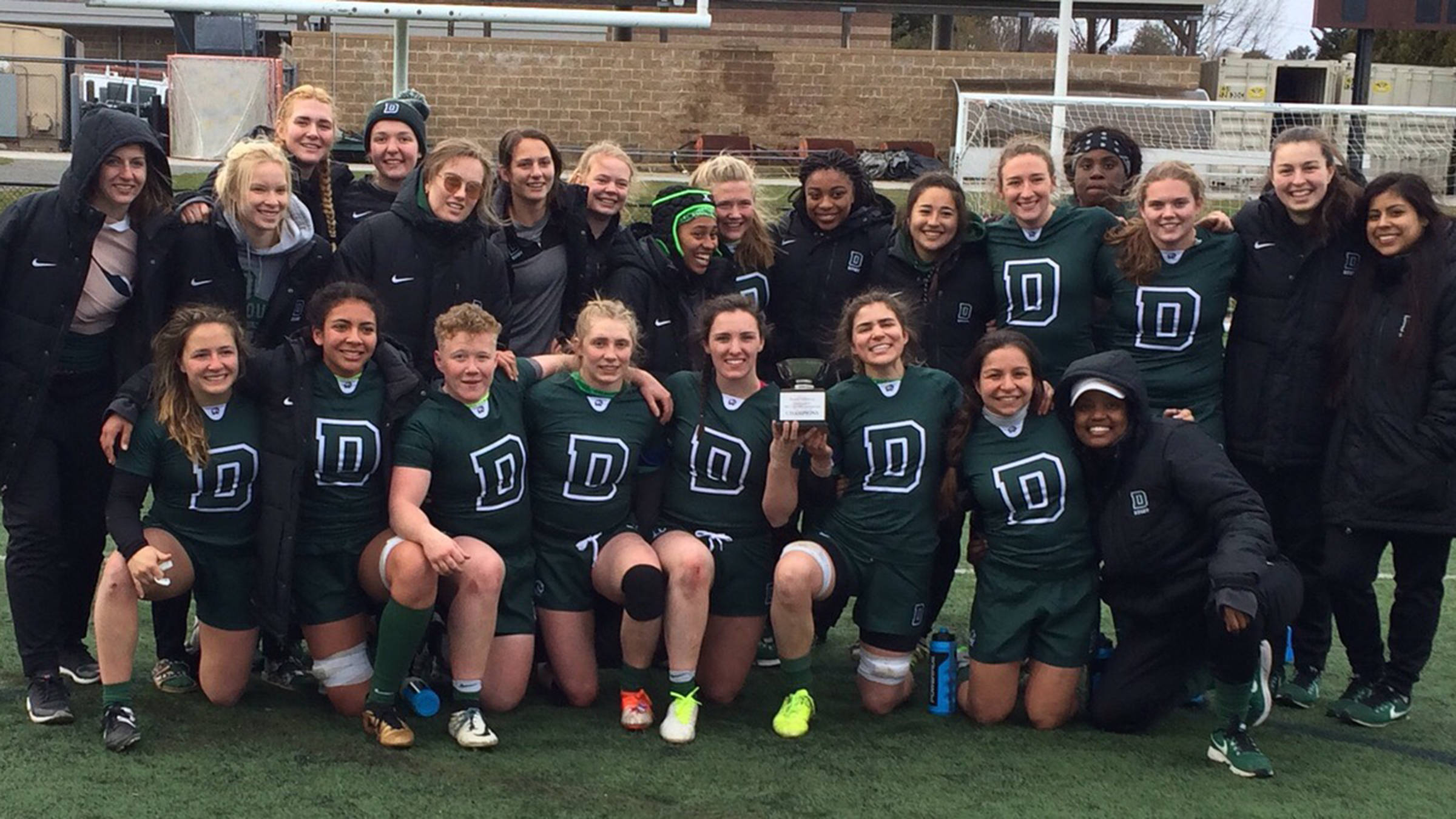 Wednesday, April 11, 2018
PROVIDENCE, R.I. – Dartmouth women's rugby had a great start to the spring this weekend, going 5-0 to win the Brown 7s Tournament. This Saturday April 14, Dartmouth will head to Princeton for the Ivy 7s Championships.
Freshman Lilly Durbin led the team with her 10 tries and seven conversions for a total of 64 points throughout the tournament. Senior Frankie Sands was second in tries with nine, scoring at least once in all five matches, to finish with 45 points. Junior Kat Ramage was first with her seven conversions and, paired with two tries, ended the weekend with 24 points. 
Dartmouth vs West Chester
Final score: W, 43-0
Tries: Durbin (2), Sands (2), Rosko, Anderson, Johnson
Conversions: Ramage (3), Johnson
Dartmouth vs. Army
Final score: W, 45-7
Tries: Sands (4), Durbin (2), McGonagle
Conversions: Johnson (3), Durbin, Ramage
Dartmouth vs. AIC (Quarterfinal)
Final score: W, 33-15
Tries: Durbin (3), Ramage, Sands
Conversions: Durbin (2), Ramage (2)
Dartmouth vs. Harvard (Semifinal)
Final score: W, 33-0
Tries: Durbin (3), Ramage, Sands
Conversions: Durbin (3), Johnson
Dartmouth vs. Army (Final)
Final score: W, 29-12
Tries Rosko, Ihensekhien, Sands, Johnson, Anderson
Conversions: Durbin, Ramage
Tournament Pool Play
Brown 45 def Molly 5
Norwich 22 def UNE 19
AIC  36 def Sacred Heart 5
W. Chester 26 def Army B 19
Bowdoin 22 def Norwich B 0
Dartmouth B 42 def UNE B 0
Quinnipiac 22 def Brown 0
Army 24 def Norwich 10
Dartmouth 43 def W. Chester 0
Harvard 24 def AIC 14
Dartmouth B 20 def Norwich B 7
Bowdoin 19 def UNE B 7
Quinnipiac 48 def Molloy 0
Army 68 def UNE 0
Dartmouth 47 def Army B 7
Harvard 19 def Sacred Heart 7
Dartmouth B 17 def Bowdoin 0
Norwich B 32 def UNE B 0
Quarterfinals
Norwich 22 Quinnipiac 12
Army 47 def Brown 0
Dartmouth 33 def AIC 15
Harvard 17 W. Chester 14
Semi-finals
Army 40 def Norwich 17
Dartmouth 32 def Harvard 0
3rd Place
Harvard 27 def Norwich 17
Championship
Dartmouth 29 def Army 12
Consolation Games
AIC 22 def Brown 14
Quinnipiac 15 def W. Chester 14
UNE 31 def Army B 12
UNE 48 def Molloy 0
Dartmouth Developmental Side
The developmental side also went undefeated, winning all three of their matches. Sophomore Casey Smerczynski was first with five tries for 25 points, while she and freshman Jourdin Thomas scored in every match. Thomas and fellow rookies Margot Généreux and Grace Player all scored in their debuts, and Kathleen Mulligan and Didi Niles also played in their first collegiate games.
Development vs. UNE
Final score: W, 42-0
Tries: Smerczynski (3), Hunter (2), Thomas, Généreux, Tong, Player
Conversions: Tong
Development vs. Norwich
Final score: W, 20-7
Tries: Wheaton, Smerczynski, Thomas, Hunter
Development vs. Bowdoin
Final score: W, 22-0
Tries: Thomas (2), Généreux, Smerczynski
Conversions: Tong
Related Links