Dash to Dublin - Princeton Returns from a Successful Spring Break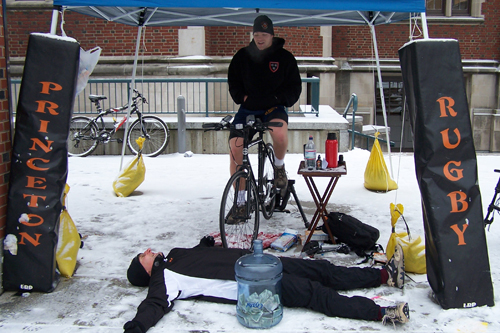 Following the very successful nine day long, 24 hours a day "Dash to Dublin" winter fundraiser, the club raised the money to take 36 students and one rugby coach for a 7 day rugby tour of Ireland.
Enduring freezing winds and two major snow storms, the team cycled 3,230 miles (the distance from Princeton to Dublin) on a stationary bike set-up outside the main entrance of the Frist Student Center. Engineering Professor Josh Girvin remarked "I was really amazed, every night on my way back from class there was someone on the bike, rain or snow, this was a great example of the team's character and self-belief". The Spring Tour was seven days' long and the team spent two nights each in Galway, Dublin and Limerick. For many players it was their first visit to Ireland and everyone returned talking about the wonderful friendliness and hospitality of the Irish people.
The team arrived at Shannon airport on the West Coast of Ireland early on a very sunny Monday morning and promptly boarded the bus that we would use all week. The tour started with sightseeing along the coast including a visit to the spectacular Cliffs of Moher. Following our check-in to our hotel in Galway, we departed for an afternoon coaching session with Nigel Carolan who is a Senior Development Coach for the Connacht Rugby Union. Nigel ran an outstanding session for us and we all picked-up a great deal of knowledge.
Under continuing sunny skies in Galway, we played our first game against the Connacht Development Side. The game was played at the Sportsground, which is the same venue where the Connacht Senior Side plays their Magnars League games. Princeton won the match 31-22. The 5 Princeton trys were scored by Dan Cummings, Kithinji Muriia, Benton Erwin, Ed Wess and Evan O'Reilly. Early in the match, Connacht found gaps in our defense to make some good long runs to score. Princeton was down at halftime 12-17.
We made some tactical changes at the break and put together an improved second half, only allowing one Connacht try while scoring three of our own. Our Scrum Half, Phil Farinacci was injured with a head gash very shortly after half time. Dave Mauskop came in for Phil, and Blake McCarthy took over as team Captain. Evan O'Reilly was named "Man of the Match" for his storming attacking runs and rock-like defensive tackles.
The following day we checked-out of our Galway hotel, boarded the bus and make the two hour journey to Dublin. Arriving in Dublin under cloudy skies, we checked into a hostel on Lower Gardiner Street. With 10 to a room, rickety bunk beds and one shower per room, our Dublin accommodation proved a great place to meet friendly non-English speaking backpackers from all over Europe.
In the afternoon we went to Trinity College and visited the famous Book of Kells Museum. The Book of Kells is a beautiful illuminated manuscript containing the four Gospels of the New Testament written in Latin and dating back from 800 AD. Following our visit to Trinity, we visited the little-known Guinness Storehouse building, which offers spectacular 360-degree views of Dublin from its modern 7th floor observation room.
The following day with the weather turning to rain, we traveled to our second game where we played against Portlaoise, a Men's Club located in the middle of Ireland. Our game kicked off at 8pm under huge floodlights with driving rain and a strong wind. Princeton was helped by the very welcome one-off return of Jon Gartside who flew from London just for the match and played an outstanding game for us at outside center. Jon used his strategic kicking to keep Portlaoise on the defensive for much of the game. Benton Erwin scored the only try of the match with strong run into the Portlaoise 22 followed by a skillful grub kick which he was able to recover to score right under the posts. Princeton won 7-0 and our wing Mike Smith was made "Man of the Match" for his all round impact on the paddock.
The next morning, we boarded the bus again and headed west to Limerick for the final leg of our tour. As we drove west, we left the rain and cloudy skies and emerged back into the sunshine. In the afternoon we had our second guest coaching session at The University of Limerick sports grounds. The session was very well run by Mike Storey, an ex-Auckland Blues and ex-Munster player now playing for the University of Limerick Bohemians Rugby Club.
The following day we played our final game of the tour against the Shannon U-20 side. The Shannon U-20's are one of the top U-20 sides in Ireland and a good number of their players also play for the Munster U-20 Team, as well as one Irish U-20 player and two U-19 squad members. Shannon was a class side, very fit, well structured and very used to playing together. They had big centers and real speed on the wings and were able to turn our corner a number of times. Shannon was also very good at capitalizing on our mistakes. Two poor Princeton clearing kicks coupled with a weak chase patterns were caught and run back for trys. Princeton lost the game 41-0, and while we came very close to scoring a number of times, the Shannon defense was very committed and they stopped us every time. We missed a number of critical first-up tackles almost all of which resulted in long scoring runs by Shannon. Cameron McLean was made our "Man of the Match" for his personal leadership, passion and all-out commitment in defense.
At the social after the match both teams traded club jackets, sweatshirts and t-shirts; pictures where taken and friendships made. Many thanks to Irish Rugby Tours for organizing our visit, and especially to Paula Cross their Operations Manager who did all she could to ensure we had a great experience, while at the same time balancing 9 other teams from North America in Ireland over the same week we were there. Many thanks to Tom Murphy our bus driver who did a great job and kept his sense of humor throughout the week. Finally huge thanks also to our Alumni, Parents and Friends who helped make the tour possible.