Featured Web site: www.princetonrugby.org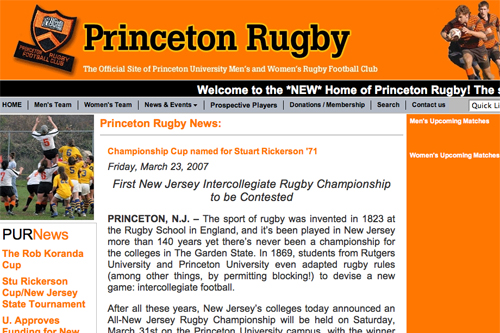 The Princeton Rugby site, sponsored by The Friends of Princeton Rugby, features news and information as it relates to both the men's and the women's teams.
The newly designed site is well organized and features information on the Men's Team and the Women's Team, News & Events, a section for Prospective Players, a section for Donations / Membership, a Search and a Contact us page. The site is titled 'The Official of Site Princeton University Men's and Women's Rugby Football Club' and does a great job of keeping its readers up-to-date and the travels and matches of both teams. Congratulations to Princeton Men's coach, Richard Lopacki and Princeton's Women's coach Emilio Signes for putting together a great site.
Princeton Rugby Web site