Harvard Women's Rugby Topples Notre Dame College at Home, 43-12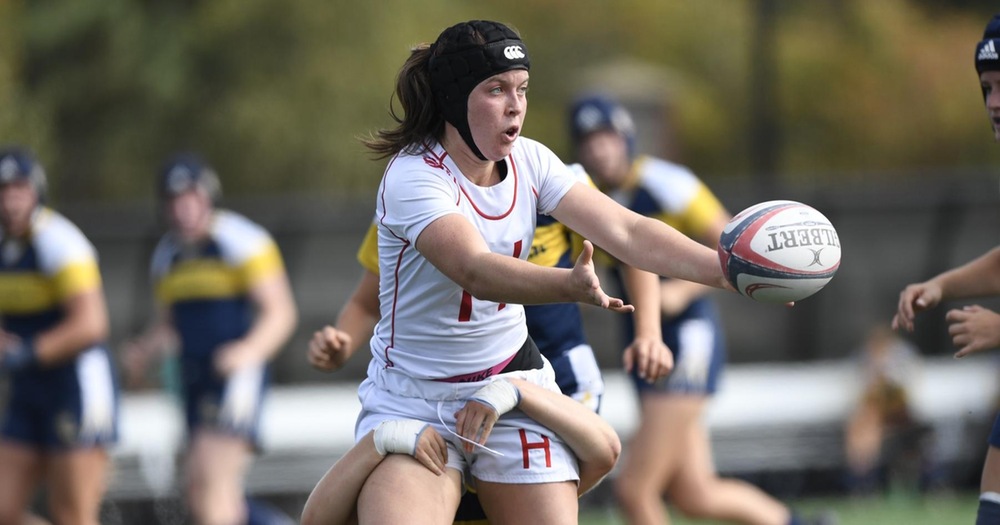 Harvard Junior Delia Hellander
Saturday, October 13, 2018
CAMBRIDGE, Mass. – The Harvard women's rugby (4-1) team used two tries each from seniors Caitlin Weigel and Jenny Kronish to defeat Notre Dame College (2-3) at Mignone Field, 43-12.
The Crimson started fast, getting out to an early lead thanks to junior Delia Hellander breaking multiple Notre Dame College tacklers to get in for the score. Just about 10 minutes later, Harvard would add another score thanks to a strong pass from first-year Sofie Fella to senior Rachael Harkavy for another try to extend the lead to 14-0.
Harvard would tally one more try before the end of the half, as Hellander got past a couple defenders before handing it off to Weigel for the try.
The Crimson lead 21-5 at the half and did not look back from there. Early in the second half, Kronish took care of all seven points with a try and a conversion to extend the led to 28-5. Weigel would add her second try of the game, thanks to an offloading pass by Fella at the goal line to put the lead at 35-5.
Kronish would round out the scoring with a kick, followed by her second try of the game to cap the scoring at 43-12.
Photo Courtesy: Gil Talbot
Harvard Highlights
Harvard's strong start of 21-straight points gave it a lead that could not be captured by Notre Dame College.
Kronish's two tries gives her the team lead with five tries this season.
Weigel also added two tries, bringing her tied for second on the team with Fella with four tries.
Game Notes
The Crimson earned a victory in the program's first ever game against Notre Dame College.
Harvard has won all three home games this season, including wins against Army West Point and Quinnipiac.
Up Next
With a berth into the Ivy League Championship on the line, the Crimson will host Brown on Saturday, Oct. 20 at 11:00 a.m. at Mignone Field. The game will also be broadcast on ESPN+.