Historic Week VII of the Ivy Series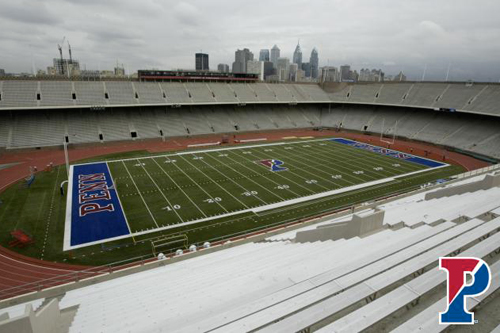 Harvard @ Yale, Dartmouth @ Brown, Columbia @ Cornell and Princeton to play Penn @ Franklin Field
 Yale vs Harvard 1875
In 1875, Harvard challenged Yale to a game under "Concessionary Rules" of part rugby and part soccer. The game was played in November at New Haven, Connecticut with 15 players on a side instead of 11 as Yale would have preferred and Harvard won by 4 goals and 4 tries to nil. The yearly football renewal of that first contest is simply called "The Game."
Because of the popularity of the game, a year later in 1876 representatives Princeton, Harvard, Yale, and Columbia organized the Intercollegiate Foot Ball Association. They adopted the code of the Rugby Football Union with a change in the scoring rules. Instead of a match being decided by a majority of goals alone, it was decided by a majority of touchdowns. Rugby changed slightly to become the American college football game.
In the 135 years since that match, rugby and football each have evolved and went their separate ways. But like the 1875 match, Harvard travels to New Haven this weekend to play Yale for the final league match in this inaugural season of the Ivy League Rugby Championship Series. Kickoff is at 1:00pm.
Penn vs Harvard 1898
Looking at the official Penn vs. Harvard football program cover from 1898, natural selection hadn't gone too far as the game still looked and played a heck of a lot like the rugby we know and love. Franklin Field, on the campus of the University of Pennsylvania, was built in 1895 for the first running of the Penn Relays, will play host to the Princeton University vs. University of Pennsylvania rugby match this Saturday. Kickoff 1:00pm. The NCAA still considers Franklin Field the oldest football stadium in the country.
Brown vs Amherst 1878
On October 14, 1878, the Brown University Foot Ball Association received an invitation from Amherst for a game. The Amherst challenge was accepted and the date of November 13 was chosen. A practice field was fashioned on the Back Campus (now Brown's College Green) and regular practice began for the "Fifteen," as they were called. Again, this first football game of the fifteen sounds like rugby to me.
This Saturday, the Brown XV will host the Dartmouth XV with the 2009 Ivy League title is on the line. Kickoff 2:00pm.
Pop Warner on the campus of Cornell University 1892
In 1892, Glenn (Pop) Warner '94 saw his first football game on the campus of Cornell University. Thinking it was "just a schoolboy scramble with a few bloody noses," Pop gave it a try and went on to become the one of football's pioneers. He was responsible for more rule changes than all other coaches combined. So it was Cornell's Pop Warner we can thank for true evolution of the game of football.
Saturday, Columbia travels upstate to play the Big Red of Cornell on Home Coming Weekend. Kickoff 1:00pm. An Alumni match and BBQ will follow the match.
Games on Tap this Saturday, October 17th
The Game: Harvard University @ Yale University
Time: 1:00pm Saturday, October 17th
Location: Yale Home Rugby Pitch
Dartmouth College @ Brown University
Time: 2:00pm Saturday, October 17th
Location: Brown Home Rugby Pitch
Princeton University @ University of Pennsylvania
Time: 1:00pm Saturday, October 17th
Location: Franklin Field, University of Pennsylvania
Columbia University @ Cornell University
Time: 1:00pm Saturday, October 17th
Location: Cornell Home Rugby Pitch
Follow Ivy League Rugby Live on Twitter
twitter.com/brownrugby
twitter.com/columbiarugby
twitter.com/cornellrugby
twitter.com/dartmouthrfc
twitter.com/harvardrugby
twitter.com/pennrugby
twitter.com/purfc
twitter.com/yalerugby
twitter.com/ivyrugby