IvyRugby.com Supports Inaugural Fight MS Golf Outing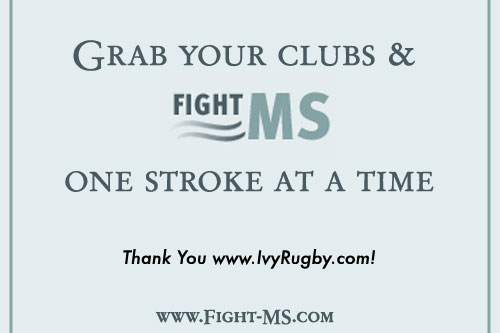 Jonesin' for a Monday off from work? Here's what you need - three pals, a round of golf, a couple of pops and a few laughs. Also, a rare chance to play the private Spring Ford Country Club golf course, home to the Philadelphia PGA Championship. All that and support of a great cause. It's a WIN-WIN.
 October 13th Set for Inaugural Fight MS Outing Monday, October 13th has been chosen for the inaugural Fight MS golf outing. The outing will be a scramble format with a 12 noon shotgun start at the Spring Ford Country Club in Royersford, PA.
Registration begins at 10:30 am, lunch will be served between 11:00 and 12 noon, beer and soda will be available on the course. There will also be a full meal and awards ceremony after the round. A cook-out lunch includes burgers, hot dogs, chicken, salads, chips, cookies, tea and lemonade. During the round, soda, beer, water, gaterade, chips and pretzels will be provided by those always pleasant cart girls. Dinner includes a cook-out buffet with a salad bar, Ribeye Steaks, fish and BBQ chicken, pasta, pototo salad, vegetables & a Sundae bar. Spring Ford Country Club is a member-owned club run by and for the members. The golf course is rated one of the finest in the tri-state area and is currently the home to the Philadelphia PGA Championship. Visit the Spring Ford Country Club Website OR take a hole by hole tour of the course. The course, established in 1924, is a challenging 18 hole layout sloped at 134, with water in play on nine holes. Their USGA slope rating from the white tees is an impressive 134 with a course rating of 71.4. We are very proud to have been given the opportunity to host our Inaugural Fight MS Golf Outing at such a prestigious location.
Contact Stephen Siano, siano

4x3 [dot] net for further details.
Spring Ford Country Club 48 Country Club Rd Royersford, PA 19468 www.springfordcc.org (610) 948-0580
Directions from Route I-76 (Schuylkill Expressway) Merge onto I-476 N via the ramp to Plymouth Meeting Take exit 16B to merge onto I-76 W toward Valley Forge Take exit 328B-A to merge onto US-422 W toward Swedesford Rd/Pottstown Take the exit toward Royersford Turn left at S Township Line Rd Turn right at 10th Ave Turn right at Royersford Rd Turn left at Reifsnyder Rd Turn right at Country Club Rd Visit www.fight-MS.com for info on the Inaugural Fight MS Golf Outing