Jay Fluck Inducted into Brown Athletic Hall of Fame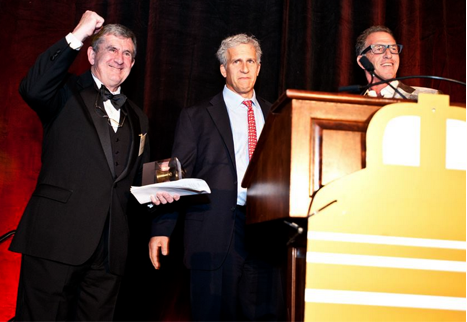 Longtime Brown rugby coach Linton A. "Jay" Fluck was elected to the Brown University Athletic Hall of Fame at a ceremony on Nov. 8, 2014. 
Fluck, along with Dave Zucconi ('55) coached the Bears from 1980-2009, posting a 315-230-12 record. During his tenure, the Bears won eight Ivy tournament titles and qualified for nationals in 1996, finishing the season ranked #8 nationally. In 1984, Fluck led Brown to victory at the New York 7s, one of the most competitive tournaments in the country. 
Fluck ('65) was a standout player for Brown from 1964-1970. He was with the team on their first tour of Bermuda (1965), which saw the Bears go 4-0, and went with the team to England in 1970. Fluck founded the Providence Rugby Club in 1969, where he played and coached. He also coached the New England Select Side. 
Fluck and Zucconi directed efforts to raise $800,000 for a new rugby field, which opened on campus in 2003. He has been Director of Rugby at Brown since 2009, overseeing fundraising and administration and hosting the 50th anniversary Brown Rugby gala