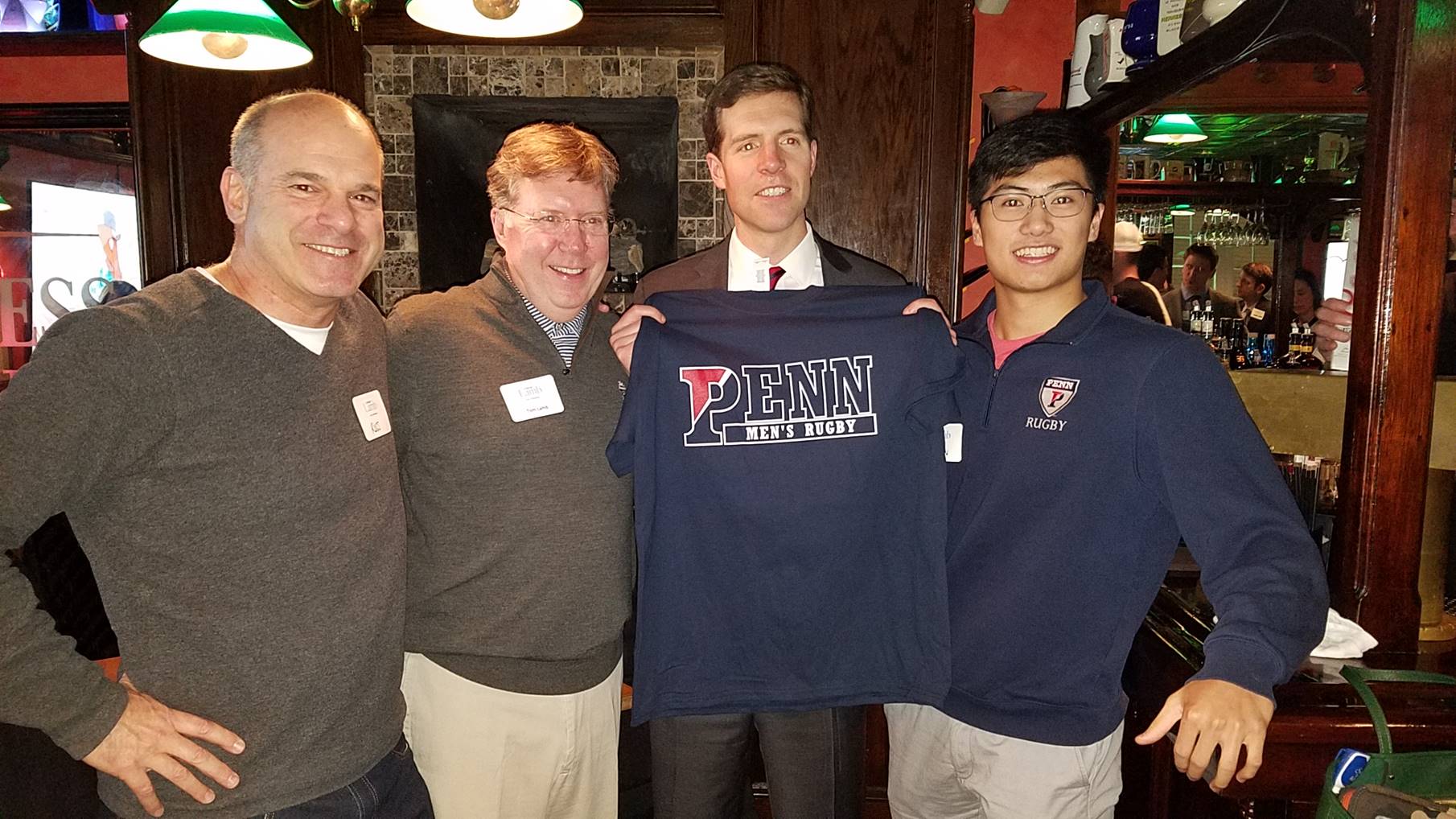 A recent article in The Daily Pennsylvanian inspired Ivy Rugby to take a closer look at the Penn rugby player from western PA who made national news in his special election a congressional seat for the US House of Representatives.
Photo (L-R): Ross Engelman, Penn '85 and President Emeritus of Penn Rugby Alumni Boosters, Tom Lamb (Conor's Father), Coner Lamb, Nathan Xu, Penn '19, present President of Penn Rugby
Penn's 2006 Class President and fellow political science major Pierre Gooding had nothing but praise for Conner. Gooding stated that, "very early on in his candidacy the rugby team, ... reached out to say that Conor would be running, and that support would be a good thing if people wanted to be involved." Gooding added that he found this "impressive" because "it showed that people cared."
Fellow Penn rugby teammate and 2006 classmate Austin Lavin also spoke to how supportive the team was. "What's special about the Penn rugby community is that people who played and went school at different times also stepped up to support [Lamb]," Lavin said. "I was happy to donate, and I know others were as well." Lavin also echoed sentiments about how involved Lamb was with the community around him and how much he cared about others. "I've always been impressed with Conor," Lavin said. "I find him to be thoughtful and serious and engaged, even at that point, in making his community a better one."
Politics did enter into the equation as a few reached Penn rugby alums reached out to oppose Coner despite their rugby connections. In the end, the Penn rugby community overwhelmingly supported Coner and the true spirit of rugby at Penn in the Ivies and throughout the country and the world shined through.
Just after Conor won a close special election in the mostly-Republican Pennsylvania 18th district, he launched a campaign for reelection in Pennsylvania's newly defined 17th district. If he is selected as the Democratic candidate during May's upcoming primaries, the rugby player form the University of Pennsylvania will officially be up for reelection for the congressional seat in Pennsylvania's 17th district. We expect the Penn and Ivy rugby community to once again rally behind their rugby mate.
Related Links