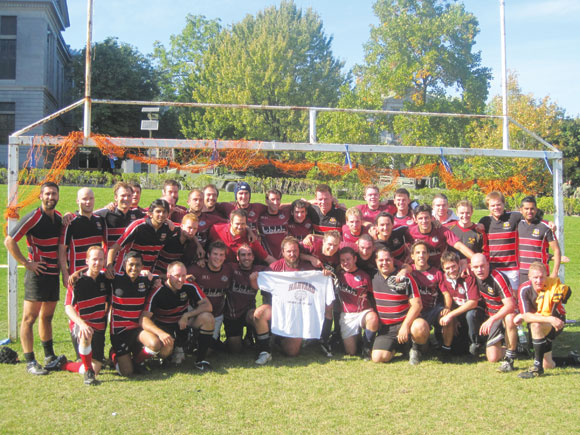 In back-to-back recent weekends, the HBS rugby team was canvassing the greater New England area, putting on rugby clinics for opposing teams.  In systematic fashion, the team posted shutout victories in Rutland, Vermont over their men's team and in Montreal, Canada over the McGill University MBA team.
The Rutland match was hard-fought from the beginning, but HBS showed tremendous defensive discipline.  An early try by Germain Chastel put HBS on the board and they didn't look back.  Deadeye kicking by Derek Poppinga added to the HBS lead, and they went into halftime ahead by a score of 11-0 behind the stout defensive play of Thomas Masterson and Matt Craig.
The HBS side poured on the heat in the second half and proved too much for Rutland to handle.  Tanner Amdur-Clark and Fats Dlamini added tries in the second half for HBS.  Final score: HBS 23 – Rutland 0.
The following weekend, the HBS ruggers traveled to Montreal, Canada to take on McGill University.  Since it happened to be Columbus Day Weekend, HBS set out to do something as American as possible to celebrate: Defeat a foreign team in their home country by a significant margin of score.
Not only was HBS victorious in the contest, but for the second week in a row, their stingy defense did not allow a single point.  In total, HBS scored 15 tries in the contest and ran away from McGill from the opening kick.  Scoring their first tries for HBS were Evan "Don Draper" Britten-Bozzone, Kemper "Four-out-of-Ten" Pierce, Tom "Lumberjack" Masterson, and "Aussie" Bob Evans.  Germain Chastel added four tries for HBS, while Garan Geist, Paul Coote, Matias Sueldo, Regan Turner, and Derek Poppinga also added to the total.
Following the game, McGill joined HBS at the bar for beers and rugby songs before the HBS men went into the city for a taste of the local nightlife.  Making a special appearance for the post-game festivities was Jake "Sorry for Partying" Cusack, who flew in all the way from Washington, DC to join the team on its postgame pubcrawl.
This coming weekend is a special one for the team, as it will host its annual alumni weekend on October 28-30.  Always one of the highlights of the year, the alumni weekend will see former HBS ruggers of all ages fly in from all over the world to reunite on the pitch and at the bar to relive their glory days.
The festivities will kickoff with a mixer at the Harpoon Brewery on Friday, October 28, and will be followed the next day by the annual alumni vs. current players match on Saturday, October 29.  The entire HBS community is invited to attend Saturday afternoon's game and to join us at Tommy Doyle's afterward for a celebration of almost 50 years of manly contest (aka rugby) at HBS.