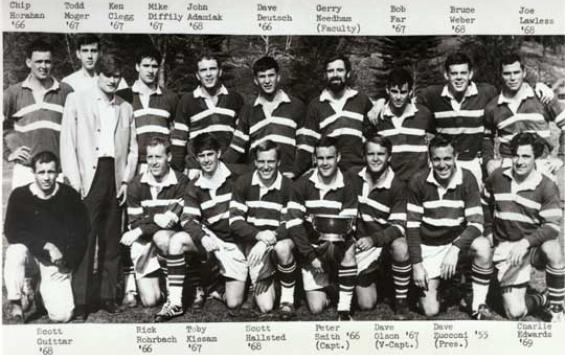 Top row, left to right: Chip Horahan, Todd Moger, Ken Clegg, Mike Diffily, John Adaniak, Dave Deutsch, Gerry Needham (faculty), Bob Far, Bruce Weber, Joe Lawless.
Bottom row, left to right: Scott Quittar, Rick Rohrbach, Toby Kissan, Scott Hallstead, Peter Smith (captain), Dave Olson (vice captain), Dave Zucconi (president), Charlie Edwards.
The Brown University Men were Commonwealth Cup champions in the spring of 1966. Among those pictured above in the team victory photo are Bob Far '67, today a member of the Ivy Rugby Conference finance committee, and Dave Zucconi '55, later Executive Director of the Brown Sports Foundation. Francis E. "Chip" Horahan '66 (top tow, far left) was killed in Vietnam and recently honored in a Memorial Day ceremony at Brown.
Rugby was introduced to Brown by Zucconi (bottom row, second from the right).