2008 Women's Tournament Details
Hosted by Brown University
Each of the eight Ivy League universities will be in attendance for the 39th annual 2008 Ivy League Rugby Championships. The tournament will be hosted by Brown University on April 12th, 2008.
Admission to the event is free.
Tournament Location
Warner-Berylson Fields at Brown University, part of the Olney-Margolis Athletic complex on Hope Street will play host to the 2008 Women's Ivy League Rugby Championship.  Three turf fields will be utilized.
Tournament Fee
The tournament fee is $300 per team. The fee covers fields, referees, EMT's, security and event staff.  Teams will not be allowed to play until the feel is paid. Mailed fees must be received by Wednesday, April 9, 2008. If the payment has not reached Brown by the date above checks may be made out to BWRFC by 9am at the registration tent.
Alcohol Policy
The tournament is an alcohol free event. We respectfully request that all teams and fans abide by this policy.
Tournament Rules
CIPP
All players must be CIPP registered and have undergraduate status at their University. All teams must submit a roster at the morning check-in.
Medical Policy
All Players must have adequate medical insurance. EMT's will be on site.
Game Length
All matches will consist of 25-minute halves with a 5-minute halftime.
Championship match will be 30-minute halves with 5-minute halftime.
In case of tie at end of regulation
Two 5 minute overtime periods
Kick-off starting at 15-out center of the pitch and moved back 5 meters after each kick.
Disciplinary
Sin-Bins will be for 5-minute periods
Red-card eliminates a player for tournament play.
Penalty Kicks for Points
Kicker may advance the ball 10 yards on kicks for points, as the uprights are at the back of the Try zones. Will be clarified at coaches meeting.
Match requirements
Teams must wear matching uniforms.
Failure to appear within 5 minutes of kick-off will result in disqualification.
Tournament Director
Tom Dill from Brown will serve as the on-site tournament director. Prior to April 12 please feel free to direct questions of concerns to Kerrissa_Heffernan

Brown [dot] edu. Each team must check in at the Tournament tent by one hour before their first match (8am Saturday) to confirm registration, roster and payment of tournament fee. Any additional information will be conveyed at that time.
Concessions and Supplies
Concessions will be available at the fields. Restaurants and stores are located a few blocks from the field on Thayer Street.
Rugby Imports will have a tent on site with equipment.
Bathrooms
Porto-johns will be near the fields
All Ivy Tournament Team
The tournament directors will work with coaches and referees to select an All Ivy Tournament team.
2008 Ivy League Tournament Seedings
1 Brown
2 Yale
3 Dartmouth
4 Radcliffe (Harvard)
5 Princeton
6 Cornell
7 Pennsylvania
8 Columbia
Seedings are based on the previous year's finish. The women's seedings are set for the 2008 one-day tournament scheduled for April 12 at Brown.
Women's Results Round-by-Round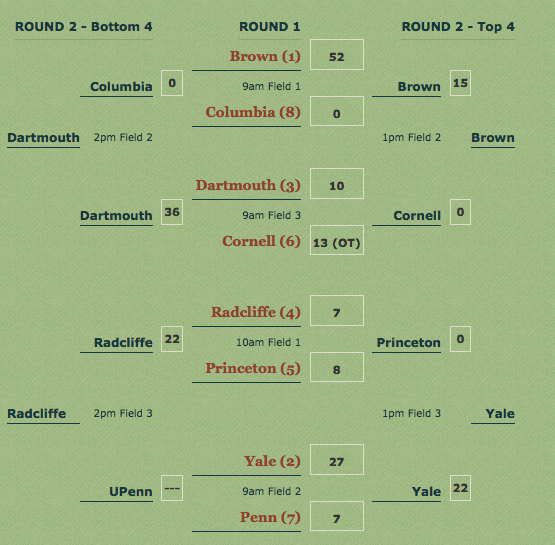 Round 1 - (25 Minute Halves)
9am Field 1 - Brown (1) vs Columbia (8)
9am Field 2 - Radcliffe (4) vs Princeton (5)
9am Field 3 - Dartmouth (3) vs Cornell (6)
10am Field 1 - Yale (2) vs Penn (7)
Round 2 - (25 Minute Halves)
2pm Field 2 - Loser of (Brown/Columbia) vs Loser of (Radcliffe/Princeton)
1pm Field 2 - Winner of (Brown/Columbia) vs Winner (Radcliffe/Princeton)
2pm Field 3 - Loser of (Dartmouth/Cornell) vs Loser of (Yale/Penn)
1pm Field 3 - Winner of (Dartmouth/Cornell) vs Winner of (Yale/Penn)
Round 3
4pm Field 3 - 5th Place Match - Dartmouth vs Radcliffe
TBD - 3rd Place Match - Princeton vs Cornell
TBD - 7th Place Match - Columbia vs UPenn
4pm Field 2 - Championship Match - Yale vs Brown